A year ago we had to decide: cancel Match XR 2020 or adjust? Read how we repurposed the VR Pavilion Finland to host the event virtually!
A year ago, our 9-person team was nervous. Match XR 2020 was a month away, and we were still hoping to arrange it as we had arranged the Match Up events before it – an in-person on-site gathering where people interested in XR could talk, network, and try out the newest demos.
But then the news hit: COVID-19 was still raging on, and all live events had to be cancelled.
So, we had to make a decision. Cancel Match XR 2020 altogether, or create a virtual event from scratch? We, of course, rolled up our sleeves and went with the latter. With just a month to go we would really have to hustle.
But what a success did Match XR 2020 become! Almost 900 people from 36 different countries participated in it by either watching the livestream on YouTube, or actually visiting our freshly made venue, the VR Pavilion Finland, in AltspaceVR. Due to ease of access, the YouTube stream was a bigger hit, but we were thrilled to have almost a hundred people visit VR Pavilion Finland on their computers, or even VR headsets.
The VR Pavilion Finland and its sister location, the Aurora Amphitheater, didn't start out as a space made specifically for Match XR – the core idea had been to build a 3D virtual pavilion for presenting Finland in the style of a World's fair. Hence the name of VR Pavilion Finland was born, and got stuck.
Since Match XR 2020 would miss the demo booths and expo space of live events, we wanted our partners from the Finnish XR scene to present themselves virtually. Their own 3D exhibition worlds would be linked to a gallery in VR Pavilion Finland, so guests could easily access these spaces. In the end, we ended up having 17 of these Partner Worlds. In addition, many more were interested in adding their own worlds into the pavilion after the event.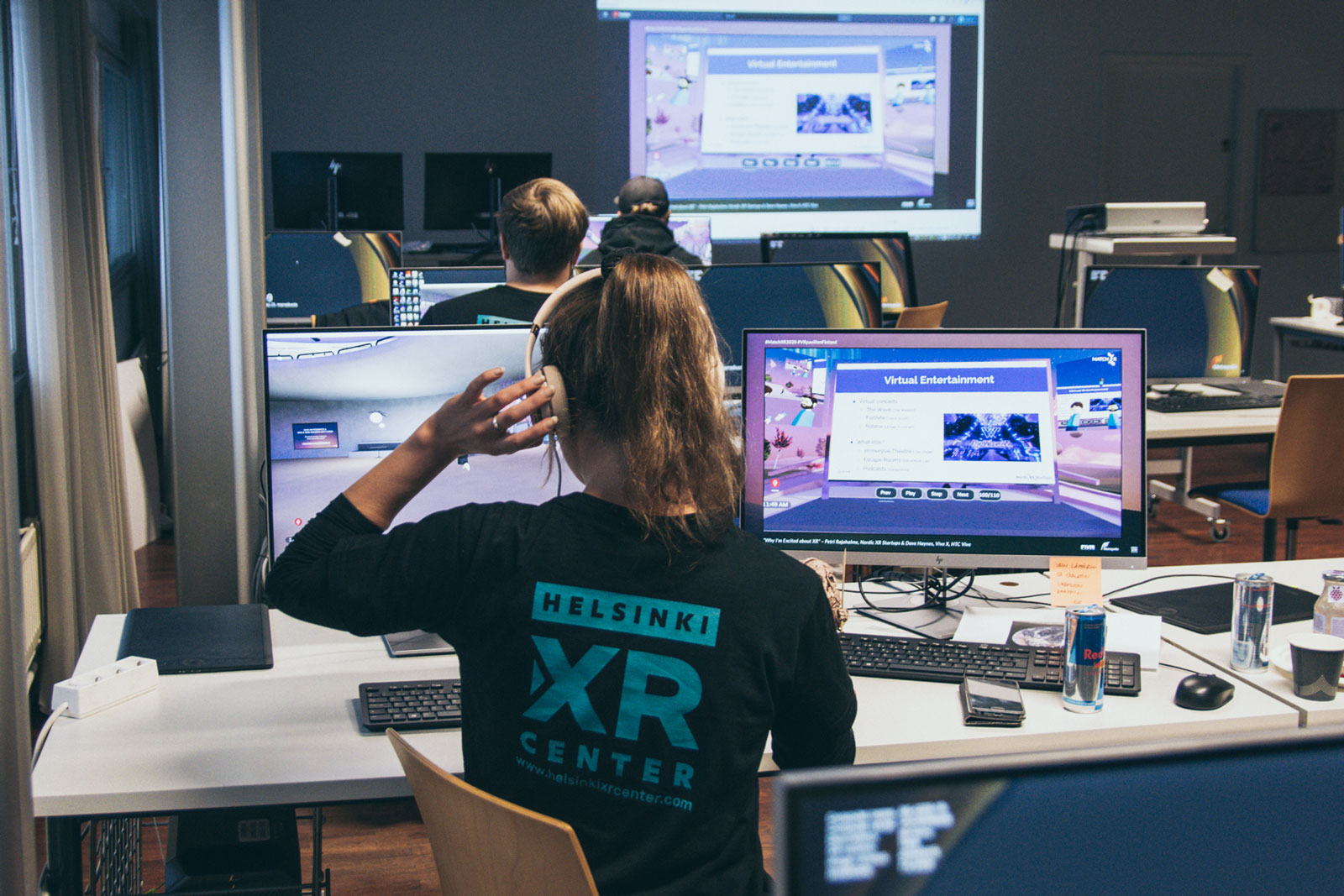 On the morning of the 25th of November our team and a handful of volunteers gathered in the HXRC space, which felt far too big for just us. There was a moment of panic as we realised that both the VR Pavilion Finland and the Aurora Amphitheater had broken overnight due to an update. But our heroic trainees Mikko and Veli-Matti scrambled to get it working again in just an hour!
The moment of starting up the livestream felt magical. The whole production room was dead silent, nervous but relieved – we were actually on air!
23 people spoke during the event, the majority of them in AltspaceVR, and majority of those for the first time in a virtual world as an avatar! We only had two live speakers: our own Santeri Suominen who opened the event, and Jan Vapaavuori, the Mayor of Helsinki, who gave an encouraging speech on the future.
All in all, we were really proud of how Match XR 2020 turned out. There were hiccups, technical problems, and things we could have done better – but it is wonderful that Match XR is happening again, so we can make it even better thanks to the experience we gained from the previous event!
We can't wait to see you at Match XR 2021!