We are on a mission of trying out remote working tools. First one on our list was Glue, a virtual collaboration platform created in Finland.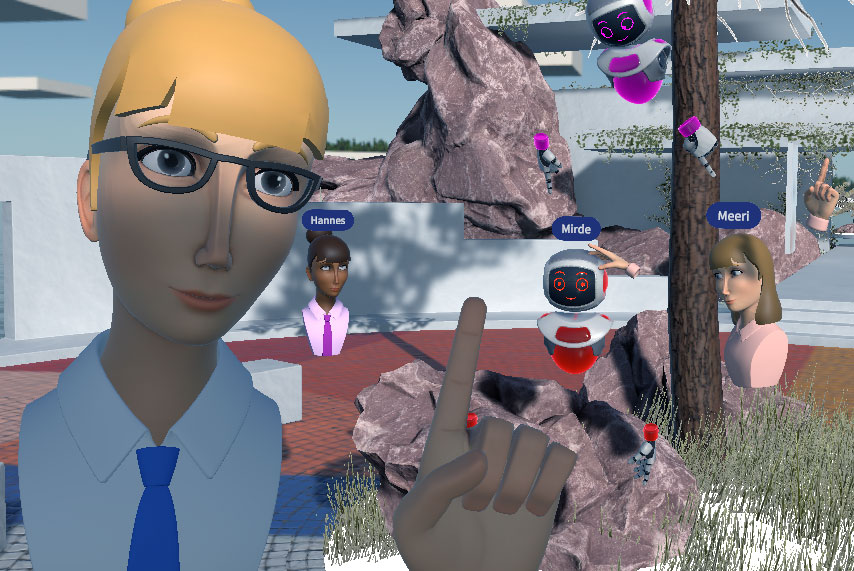 Due to the COVID-19 situation, suddenly almost everyone had to face working remotely, which created an immediate high demand for collaboration platforms. However, even if the demand is exploding, expectation management is super important. Many are trying out VR collaboration services, but it is not an automatic ticket to heaven. On the contrary, it demands rigorous on boarding and familiarising, especially with less tech-savvy team members.
We, the Helsinki XR Center team, realised that this situation is our chance to explore ways of working remotely, and we are now on a mission of trying out different kinds of virtual reality collaboration tools. First one in our exploration queue was Glue, a virtual collaboration platform created in Finland. For us Glue Collaboration tool was an easy choice for the first platform to test as we have been collaborating with the people of Glue for a long time in different events and research projects. Also, supporting Finnish companies is always a priority for Helsinki XR Center!
Glue Platform
Glue offers tools for cross platform online work, such as possibilities for screen sharing, note taking, viewing of 3D models, presentations, videos etc. All of this is done in purpose-built environments, created by the Glue team. The environments are created to offer tools for working, such as separate spaces for smaller teams, screens for presentations and a soothing, natural environments to create a peaceful atmosphere.
Once a team has access to the Glue platform, its members can freely join any of the available virtual spaces. The members see the avatars of each other and can speak to each other through the built-in VoIP-system. The platform can be used either through different VR headsets (currently supported are multiple SteamVR, Oculus and Windows Mixed Reality headsets, including HTC Vive, Oculus Quest, Varjo, Samsung Odyssey and many more) or desktop. Each of these mediums offer slightly different tools, suitable for that platform, for example only desktop can share their screen with other users.
For our testing, Glue offered us the possibility to use the Oculus Quest version, which still is under development. This way they can also get valuable feedback on the issues of the standalone version of their application. We gladly took this opportunity, as Quest is a widely available headset and we wanted to run test sessions on as many platforms as possible. Not being publicly available yet, meant of course that there could still be some hiccups in the software, and the installation and updating possibly require more work than the final version would.
Getting the meeting up and running
To get started with working with Glue, we first logged into the Glue's work space and downloaded the Glue software installation package that suited best for each PC+headset combination (MacOS, Windows or Oculus Quest). All in all, the installation went super smoothly, but for those with Oculus Quests the process turned out to be a little bit harder. It included various technological steps that were unfamiliar for the non-tech-users, and they would not have had the knowledge to get through with the installation without the help of our XR experts. In the end, the installation didn't go through for some of the Quests, but luckily they could still attend the meeting due to the desktop view feature. It surely is a great feature in case any technical difficulties occur with the headset!
The final results was that half of our team used the Glue platform with headsets, and the other half used the desktop view:
1 x Valve Index with heavyweight gaming laptop
1 x WMR Samsung Odyssey+ with desktop computer (RTX 2070, Intel i5-6600k)
1 x Oculus Rift S with heavyweight gaming laptop
1 x Oculus Quest
4 x Desktop view on laptop
Things we love about Glue Collaboration
All in all the meeting went great and the software worked without any delays. To be honest, we spent most of the time just playing around with it's cool tools and widgets (so much fun!), but we also inspected the features so that we can benefit from them in the future use. These were the highlights of our use of Glue Collaboration tool:
Glue platform adds the feeling that you are in the same place with your meeting buddies. Basic presence and especially the presence of others is well established, which is absolutely the most important aspect in a collaboration tool. For some of us, a Skype or Teams video call doesn't do the same.
Nice graphics, especially water, landscapes and beautifully designed environments. Avatar facial animations are pretty good and they've achieved in making even robot avatars look lively.
Audio quality was quite consistent with the connection and we could hear others really well.
Camera tool was useful, fun and had a cool depth of field effect. And it allows users to take selfies along the way. Taking photos is good for example to save drawings/writing.
Creative toolkit: Written notes and 3D drawings with the camera can be very useful for creating your own "work corners" where you can arrange work items like to-do lists, drawn shapes and photos of these in spatial constellations. Very good for organizing thoughts and action points!
Our team is definitely going to work with Glue again! There are so many excellent collaboration tools to use, and we can't wait to have creative workshops with it. This experience was more of an exploring type of journey, but we are planning to have our next Glue-meeting with a more goal oriented touch. This means that next time we will get an even deeper understanding of what Glue really offers in a real-life meeting situation!
The COVID-19 quarantine gave us, the Helsinki XR Center team, a great chance to explore virtual ways of working remotely. Our mission was to try out different kinds of virtual reality collaboration tools, and as a result, we wrote articles about our realizations and insights that came along the way.
If you missed the earlier articles, you can find them in the Working Remotely series.