We will share the journey of how our Helsinki XR Center (HXRC) team, a group of eight persons with different technical backgrounds, will work remotely weekly in virtual reality (VR) using multiple platforms and extended reality (XR) equipment from home. It's time to do a little exploration!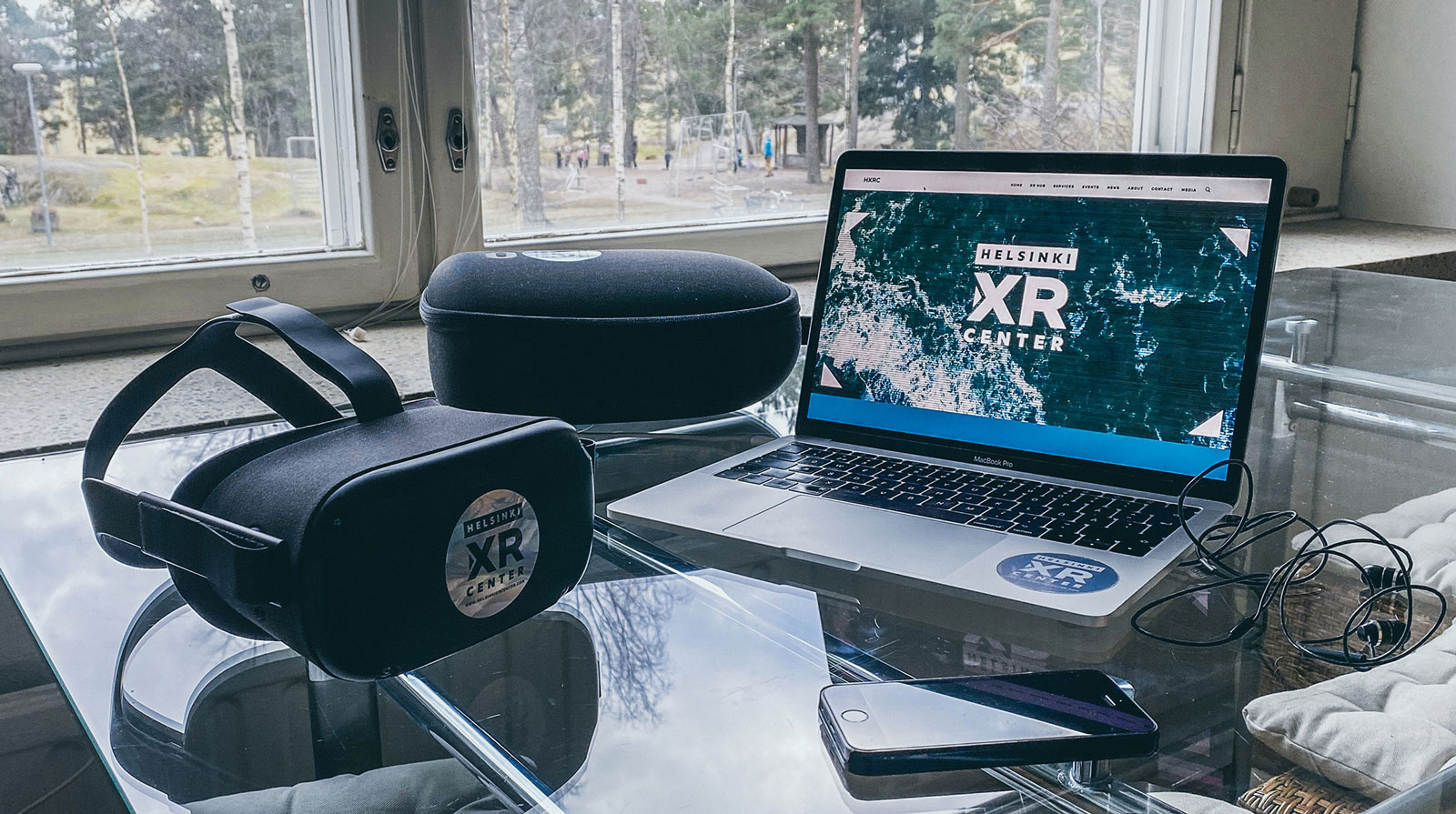 Last week it was finally obvious. The COVID-19 situation was going to affect our work dramatically and we needed to quickly change our plans. Helsinki XR Center's (HXRC) headquarters decided to switch to work remotely, entirely from home, but as it turns out, it wasn't all smooth sailing. It wasn't clear how this situation would affect our way of working, but we were, and still are, very curious about the journey, and what kinds of things we will realise along the way. It was important to us, like any other team out there, to bring our team together in one easy-to-use platform so we can collaborate and manage our work wherever we are. But the most important part for us is that we want to use extended reality to do that.
Like our XR Technology Expert Santeri Saarinen says, for us in the XR industry, the important point is to lead by example. We should know these tools. We should know the hardware requirements. We should know which software fits in which situation. For now though, we don't know enough. Everyone in the industry is familiar with a few different tools they have used, but there's no large scale reviews of remote collaboration platforms, no evaluation on their efficiency in different contexts. And what we realised in this situation was that now is the chance to explore as many of these alternatives as possible.
So … what does this mean in practice?
During these times, the HXRC team's aim is to take a look into traditional remote meeting applications in virtual reality, but also more gaming or social platform related virtual reality software. And to do that, the first step was to arrange suitable extended reality (XR) equipment to all of our eight HXRC team members. Luckily, we have a lot of different equipment in reserve at the Helsinki XR Center, but these are used both by the HXRC team and our XR Hub developer teams. So even though we have many devices, it was super important to make sure that there was enough equipment for everyone. To keep track of our equipment, we use a simple online Gantt chart called Tom's Planner. Our charts contain up-to-date information about our shared gear: it shows who is currently using what tool and when it will be available for others again. These online charts were of invaluable help, as we could locate all of our equipment right away.
Regardless of our up-to-date Tom's Planner, it still took us more than an hour to combine the right headsets with the right individuals. All of us have different hardware at home, and one of the struggles was to find out whose computer is compatible with what headset. Those whose computer didn't have a powerful enough graphic card for certain headsets, got to lend a headset that doesn't need a computer, and those whose computer had "enough power" got the others. Some of us decided to lend also a computer from the office to go with a headset of their choice. After all of this was settled, we needed to arrange who will pick-up what from where, and when. All in all, the situation needed a lot of planning and communication.
The equipment to work remotely
In the end, the following equipment was designated for the team:
Headsets:
3 x Oculus Quest
1 x Valve Index
2 x Samsung Odyssey
2 x Oculus Rift S.
Computers:
2 x Alienware or MSI gaming laptops
3 x existing high-end gaming machines at home
After everyone got their equipment in order, we had to figure out how to share sign-in instructions for everyone so we can all work remotely. First we met in Microsoft Teams meeting and our XR experts gave us good instructions (also written) about using the headsets, and of how to log-in to the first VR platform which we are going to try out. We have decided, that the first platform is going to be Glue – a Virtual Collaboration tool.
In the midst of all the arrangements, we realised that this will going to be super interesting not only to us, but to all of our followers. That is why we decided to create a series of articles about our explorations and realisations that come along the way!
Our team will give honest opinions and insights exploring different virtual conference rooms in cyberspace. Does it really work in VR or not? What did our XR experts and other team members think: can virtual meetings be just as good as face-to-face ones?
We are excited to see how things are going to work out! Follow our exploration on our social media channels and our website's news articles!
The COVID-19 quarantine gave us, the Helsinki XR Center team, a great chance to explore virtual ways of working remotely. Our mission was to try out different kinds of virtual reality collaboration tools, and as a result, we wrote articles about our realizations and insights that came along the way.
If you missed the earlier articles, you can find them in the Work Remotely series.