After a couple of years of virtuality, Match XR – Helsinki XR Center's highlight of the year – returned as a live event on 16 November 2022, bringing 1300 XR and emerging tech enthusiasts together.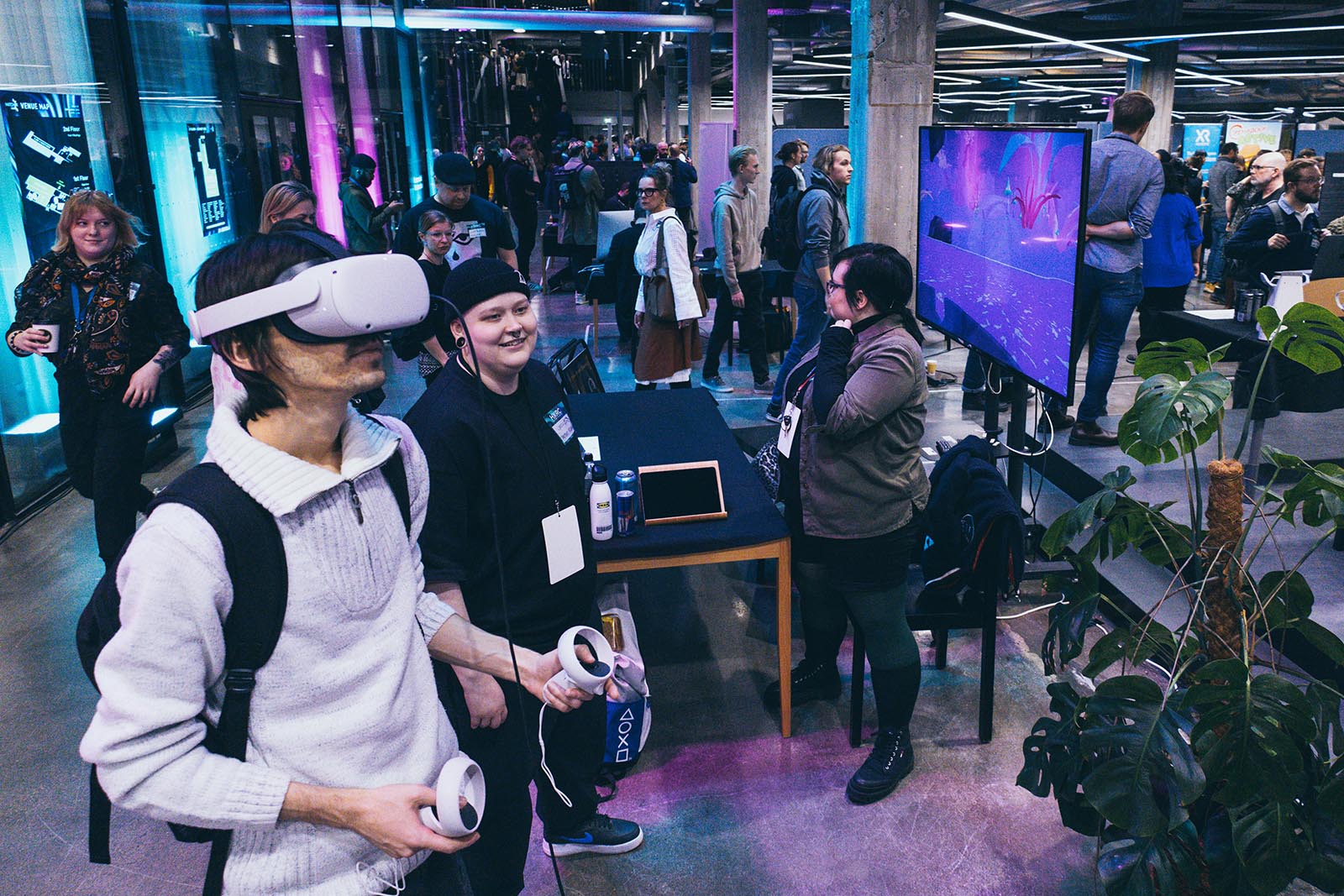 Photo: Kira Vesikko & Helsinki XR Center
Match XR is an annual Slush pre-event focusing on extended reality (XR), Web3, gaming, and everything in between and beyond. It creates an overview of the current state of the Finnish XR & emerging tech scene, and brings fresh start-ups, industry veterans, investors, students and other enthusiasts together. For international audiences it offers a unique opportunity to meet and experience the professionals of the Finnish XR field.
During the last six years, Match XR has developed to be the biggest one-night event in the Nordics dedicated to XR and emerging tech.
In 2019, the last time it was possible to organize the event live, it was still known as Match Up. It had 750 attendees from 20 nationalities, 37 demo booths, 11 speakers and XR showcases, as well as 120 pre-booked meetings. It was a true success. (Read more about Match XR 2019)
However, the last few years haven't been easy for events. When the COVID pandemic hit in 2020, we didn't want to cancel this magical event – so we had to go virtual. We decided to arrange Match XR 2020 on the popular social VR platform AltspaceVR: build our own virtual venue (VR Pavilion Finland) in it, move all the keynotes and exhibitors to it, and have people attend Match XR completely in virtual reality (or follow the event through a YouTube livestream). As we went through the hassle to change the concept on the fly, the name of the event changed too: Match Up became Match XR. (Read more about Match XR 2020)
In 2021, when the COVID situation was still unstable, but a few more people were now allowed to be in the same space at the same time, Match XR changed again and went hybrid. And at the same time, it became bigger: it expanded into a two-day event with both live and virtual stages & programs. Both sides had amazing keynotes, both real-time and recorded, and, of course, demos from various Finnish XR companies. (Read more about Match XR 2021)
And this year, as the world is slowly and steadily recovering from the era of forced virtual and remote work, we decided to do something a bit unexpected: we decided to make things simple. Instead of building a two-day event, or even a full one-day event, we decided to narrow things down to a cozy 4-hour live event with the focus point purely on showcasing the current state of Finnish XR and emerging tech scene in the flesh, with some networking on the side. No keynotes, no virtual world, no livestream. Simple!
Read below how it all went!
Match XR 2022 in a nutshell
As stated before, in 2022 we brought Match XR back to real life after two years of virtuality. This year, the focus point of the event was on the Expo Area with dozens of cutting-edge applications and solutions from 61 organizations. In addition to this, the event offered pre-organized 1-on-1 meetings, as well as casual face-to-face networking with fellow tech enthusiasts over a drink or two at the Bar & Lounge.
To be honest, we were a bit nervous about arranging a live event after such a long pause. We didn't know what to expect. Will people come to a live event? Are people too busy with other Slush side-events?
But it turned out that our worries were unfounded, as once again, all of Match XR's tickets sold out. We are very happy to announce that the amount of no-show was negligible, and within the short-seeming 4 hours, we were visited by a whopping 1300 attendees from 62 different nationalities!
4 Hours

61 Exhibitors

1300 Attendees

62 Nationalities
Because of the short duration of the event, we decided not to have any keynote presentations or other scheduled program that could reduce the time that attendees would use for browsing through the Expo Area. We decided to concentrate only on the amazing exhibitors, of which we got a grand total of 61 organizations. More organizations applied than we had the capacity to take on – in a way, this is a positive problem, and a clear sign of how vital the XR & emerging tech scene really is in Finland!
In the end, the Expo Area of Match XR 2022 represented a wide variety of Finnish creators, from artists to hardware giants to XR consortiums. We truly had a deep-dive into the current state of Finnish XR and emerging tech! During the four hours of the event, every single booth was buzzing with dozens of curious people, and we got great feedback from the exhibitors. People got to talk, mingle and exchange contact information at the Expo Area, and at the Bar & Lounge as well.
All in all Match XR 2022 went a lot better than we had anticipated. New connections, innovations, laughter, drinks, music … Match XR 2022 was all this and so much more. We cannot describe how excited we are that, once again, Match XR turned out to be a success. A big thank you to all the curious attendees, exhibitors and XR people at Match XR 2022 — you are the reason we are doing this!
With your feedback we can make next year's Match XR even better. If you attended Match XR 2022, please give us feedback through this link!
Match XR is an annual Slush side event organized by Helsinki XR Center. In short, Helsinki XR Center (HXRC) is an incubator for talent, a cultural hub for co-creation and learning for all artists, entrepreneurs, engineers, scientists, students and enthusiasts in the field of virtual and augmented reality. HXRC supports Finnish XR startups by for example offering office space and equipment, mentoring and access to the Finnish XR community, as well as organizes various XR events for networking purposes (such as Match XR!), and carries out different kinds of RDI (research, development & innovation) projects with universities and other organizations.
Match XR 2022 was once again built completely by the multi-talented 9-people team of Helsinki XR Center. Only two individuals of the team, event producer Moona Paarto and marketing producer Meeri Lehto, worked fully on Match XR during the busiest months (September–December 2022), and the input of other team members varied throughout different stages of the project. In addition to the core team, we had four amazing interns supporting us in every step of the way, and then, on the event day, we had four super talented volunteers from the Cultural Management degree of Metropolia University of Applied Sciences to help us in hosting meetings, guiding attendees and building the venue.
This year the Bar & Lounge area was produced by the 3ES alliance that brings together three different entrepreneurship societies from different universities of applied sciences: Laurea Entrepreneurship Society, Metropolia Entrepreneurship Society and XES Helsinki.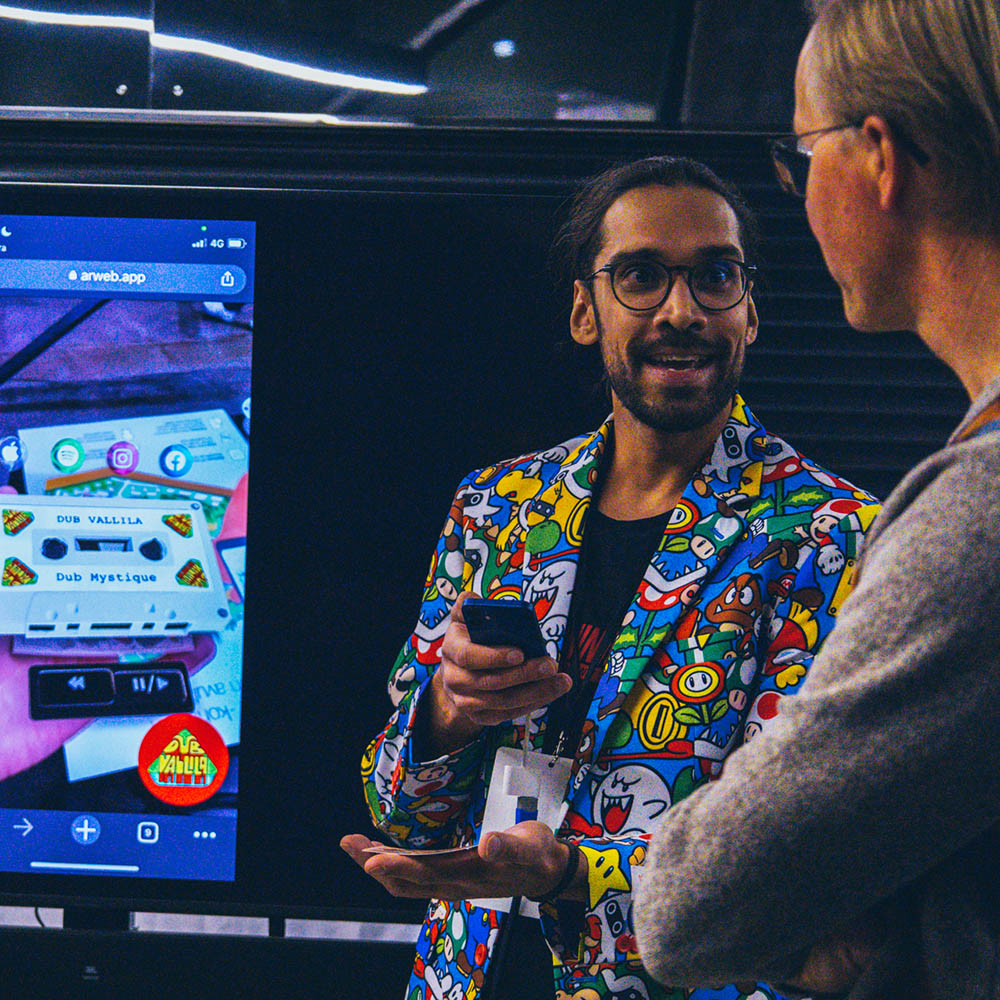 Photos: Kira Vesikko / Helsinki XR Center
When it comes to the event venue, Match XR 2022 was held over three floors of Metropolia University of Applied Sciences' Arabia Campus. The campus is also called the "Creative Campus", as it is where Metropolia UAS' all operations of Culture and Arts are centralized. In addition to many more traditional Culture & Art forms, on this campus you can study, for example, XR Design, which suits Helsinki XR Center's operations like a glove, and naturally, they were presented at Match XR 2022's Expo Area as well!
Every deed, big and small, played an important role in the big picture, and once again, we managed to create the biggest one-night XR & emerging tech event in the Nordics. We are very grateful to everyone who built this amazing experience with us. Thank you all for your support!
The main organizer of Match XR 2022 was Helsinki XR Center together with Metropolia University of Applied Sciences. The event was supported by Business Finland, Helsinki-Uusimaa Regional Council & 3ES.
(the article continues after the picture)
Launching the HXRC Network
On the side of creating Match XR 2022, we launched our newly established networking platform: HXRC Network. In short, the HXRC Network was created to connect the Finnish XR scene with the rest of the world: the platform is a nexus for various XR Networks around the globe. The platform helps customers with their search for the right company to help them with their XR related wants and needs, and for talents of the XR field to find their next projects to conquer. Around the hype of Match XR 2022, we managed to attract as many as 339 members from 161 organizations to the HXRC Network, and it keeps on expanding.
If you are interested in joining the HXRC Network, take a look at the HXRC Network landing page.
More information and detailed instructions on how to join and use the HXRC Network will be available on our website & social media channels very soon, so stay tuned!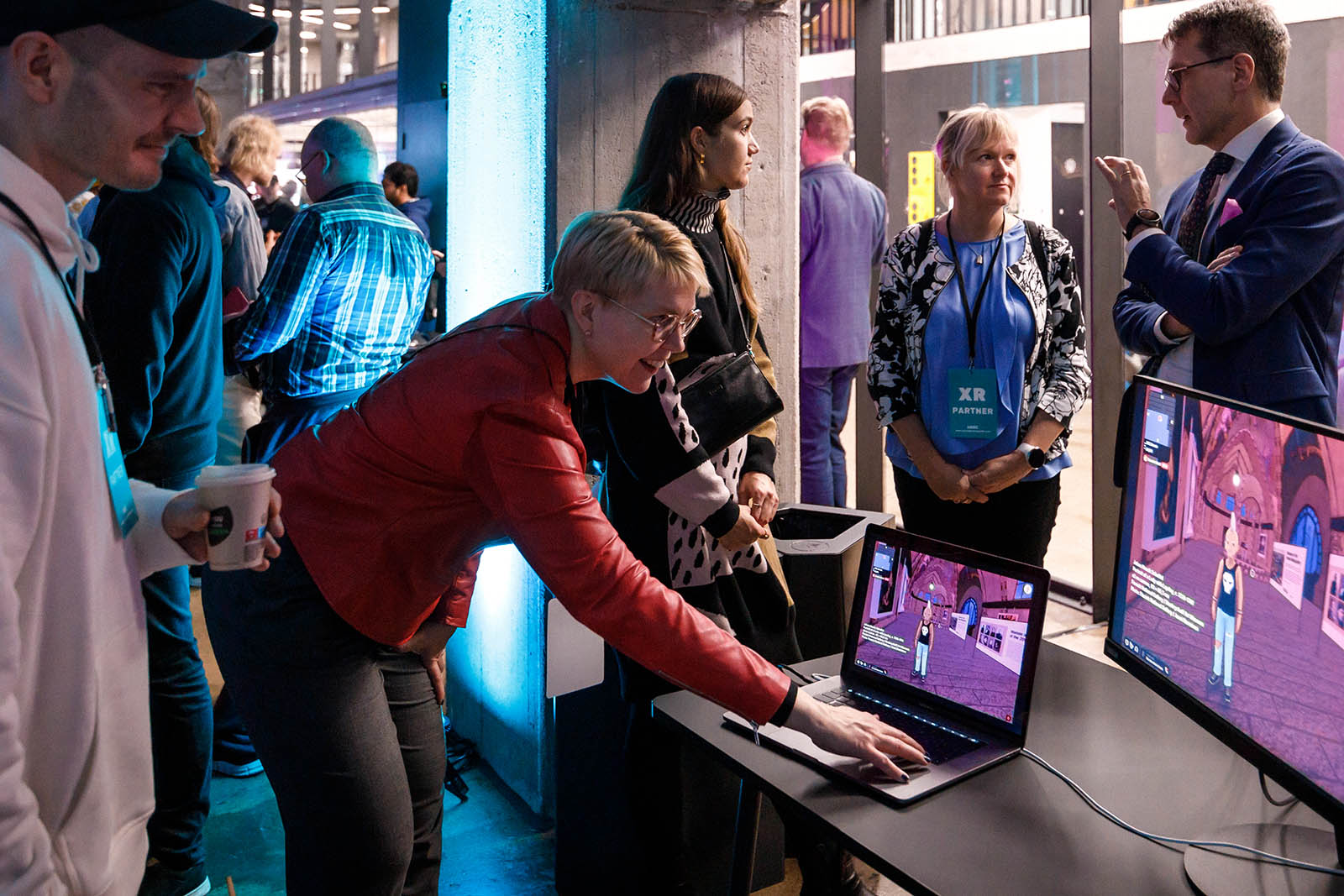 What to expect from Match XR 2023?
Next year we plan to arrange the event with the same concept: main focus on exhibitor booths, with some casual mingling and pre-booked meetings on the side. But who knows – maybe we'll come up with something exciting to spice up the experience a little bit! Don't worry though: when it comes to Match XR, the main focus will always be on showcasing the current state of Finnish XR and emerging tech!
The venue, Metropolia UAS' Arabia Campus, is wonderful, and very convenient for us at the Helsinki XR Center as it is located right next to us, but challenging when it comes to big expo events. We'd like to continue arranging Match XR at the campus, and therefore we are focusing on making the expo area more spacious, so that we can ensure a more comfortable experience for everyone. We really hope to figure out a solution that works best for every stakeholder of the event!
In 2023, Match XR will once again happen the day before Slush, and the date has already been set to Wednesday 29 November 2023 – write it down! Planning of Match XR 2023, and especially the search for sponsors and partnerships, will start early in the beginning of 2023, so if you already know that you definitely want to be a part of Match XR 2023, please let us know! Send us a message and we will think of a way to get you on board! Email us at: info(at)helsinkixrcenter.com
Did you attend Match XR 2022? Please give us feedback about the event from the button below!