VReal makes local knowledge and heritage global.
Two-thirds of the global population are currently connected to the Internet. The average internet user aged 16 to 64 spends six hours and 58 minutes online daily. Understanding how immersive technologies and other digital solutions will change the way we experience museums and heritage sites has never been more crucial.
To participate in this rapidly evolving digital landscape, museums and other heritage sites are shifting from a physical to a virtual or hybrid presence. But how do you create a digital solution that serves your audiences need while you fulfill your institutional mission, and how do you monetize it?
One thing is sure; if you want to have an impact, you must have an online presence. We have developed technology that combines a digital version of a real space and a live expert giving a guided tour. The user can choose between following the guide or wandering around freely. It is a live stream, so everything is in real-time. A chat box is available during the tour in case of any questions.
Adding live interactions to the virtual tour gives the viewer a unique experience. The feature is highly dynamic, allowing museums and heritage sites to arrange multiple shows in different languages, themes, and narratives.
See examples of our work on the VReal website.
Contact
Johannes Söderström – Founder – +358 40 5796205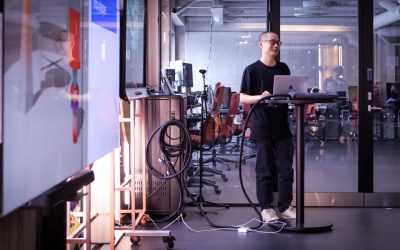 The HXRC Developer Hub is gaining new life in a new space – and finally face-to-face, like in the good old before times!