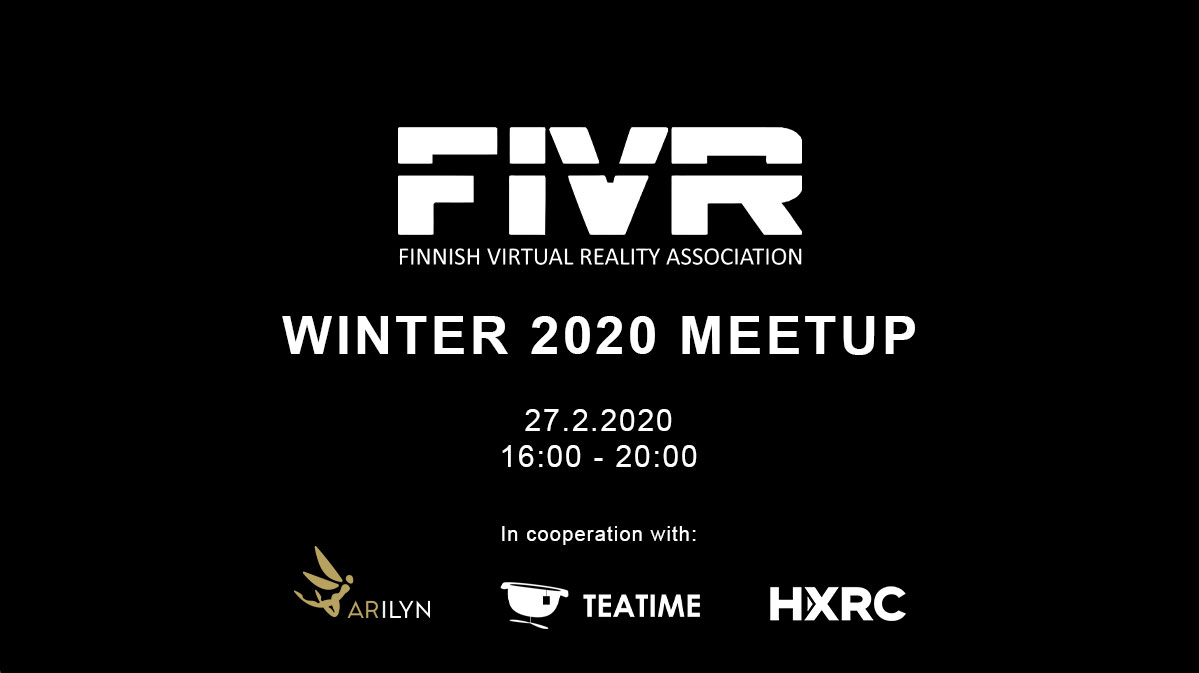 DATE: 27th of February 2020
TIME: 16-20
LOCATION: Helsinki XR Center
ORGANIZER: FIVR – Finnish Virtual Reality Association, Teatime Reseatch, Arilyn
SUPPORTED BY: Helsinki XR Center
TICKETS: Free of charge
It's 2020 and FIVR is going back to its roots!
Finnish Virtual Reality Association's (FIVR) first meetup of the year will be held on 27th of February 2020 at Helsinki XR Center. The event is organized together with Helsinki XR Center, Teatime Research and Arilyn.
What is the theme? Developers, creators, hackers, assemble!
FIVR started out originally as a group of passionate VR and AR developers, who wanted to share the excitement and challenges of creating in a new digital medium. Reflecting back on what FIVR is essentially all about, the association's active members wanted to bring back regular meetups for the developers, creators and hackers of the XR world.
In this back-to-the-roots mindset, we want our meetups to be simple, fun, effective and full of action. Lots of demos, sincerity, mingling, sharing a drink and visions with fellow enthusiasts. Everyone is free to share both their success stories and failures in an atmosphere of openness.
Teatime Research will set a retrospective glance on their journey from FIVR's hub in 2016 to now. At the same time it will be a look back on how the Finnish XR scene has changed in the meantime.
If you want to bring a demo, please contact santeri(at)fivr.fi.
Helsinki XR Center has all equipment that is needed for VR demos, up to a limit. For AR, we recommend bringing your own devices.
Welcome!
Remember to join the Helsinki XR Meetup group here to see all the future XR meetups! Meetup.com group is the place where we want to gather all XR related meetups happening in the Helsinki capital area.