Due to the pandemic, the HXRC team is testing out virtual coworking tools. Does VRChat work as a professional platform?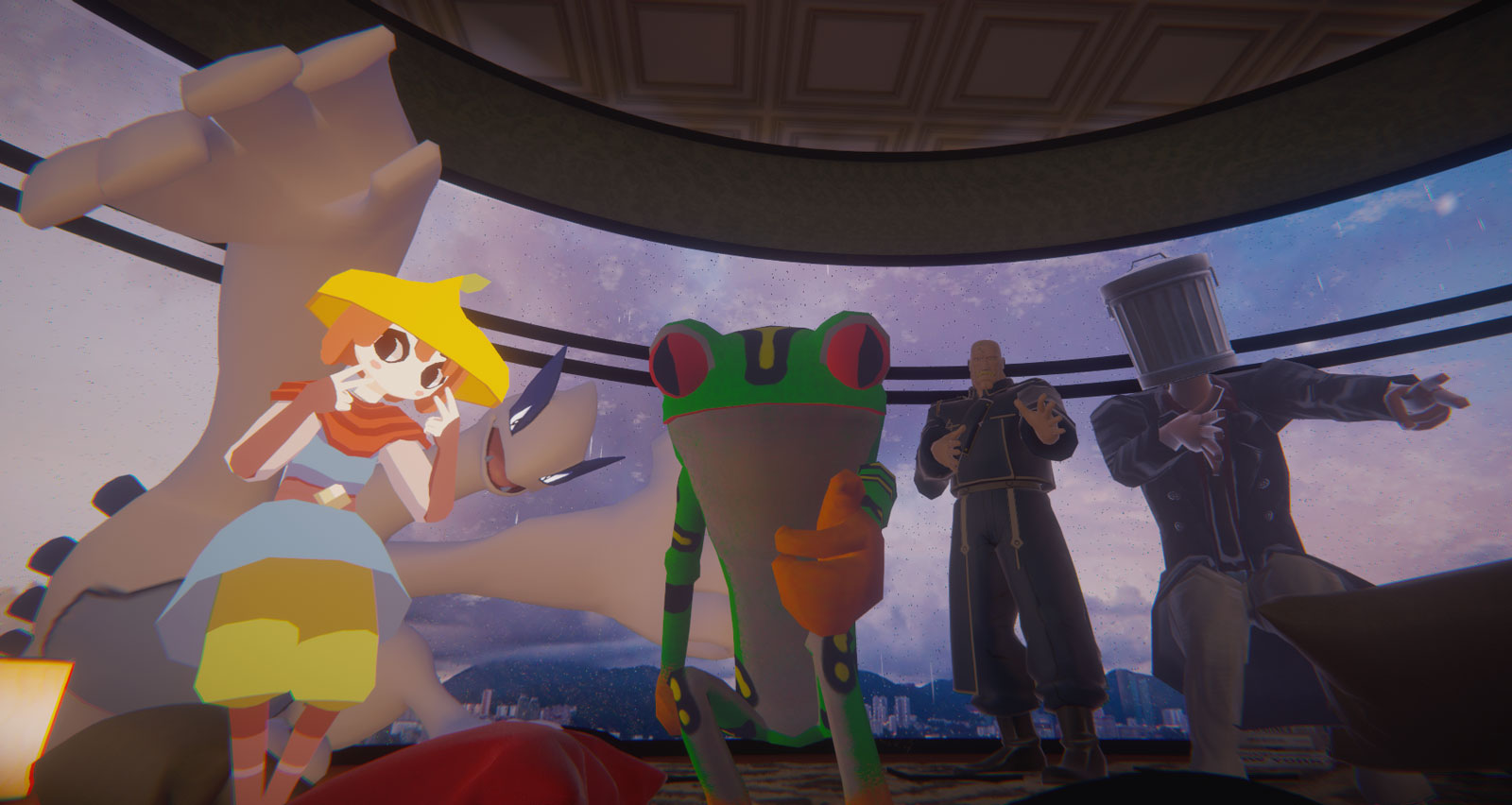 Next up on Helsinki XR Center's test list of social VR and collaboration tools is VRChat, quite possibly the largest, and definitely the wildest, social virtual reality platform available.
Previously we have written about Glue, a virtual collaboration tool, and social platforms AltspaceVR, Bigscreen VR, Rec Room and VRChat. You can find all of these articles in the Working Remotely series.
VRChat
VRChat is famous for the creations of its member community. It could be described as the wild frontier of virtual reality (VR), where anyone can create almost anything from avatars (virtual bodies users can inhabit) to VR worlds and activities, such as karaoke and games and share them among the user base. There are hundreds of available 3D avatars to choose from, an impressive ensemble of pop-culture characters, anthropomorphic animals and vegetables.
This is a reflection of open-source internet mashups, where cultural streams collide and are re-interpreted in unexpected ways. Even the first VR meme, "Ugandan Knuckles", which leaked into the internet mainstream through videos and screenshots, was born in VRChat as testament to its free mix and match spirit.
Stepping into a teleport.
Our experience
VRChat supports PC VR headsets as well as a desktop view and Oculus Quest, although not all features are compatible. In our experience, it was quite difficult to discern which features were really available to Quest users, and which were not, as for some rooms the description said that the room was "Quest compatible", but that wasn't always the truth. In our testing team were two Quest users, and we found out that in a "Quest compatible" karaoke room they could only hear the singer's voice, but not the background track. Also in a "Quest compatible" murder mystery game, Quest users could not participate in the game, but only follow the progress of others in a spectator lobby. It is great that you can take part in the experience with various headsets, but a shame that you cannot participate fully with all of them.
We found the ability to inhabit various skins through avatars a delightful instrument of social roleplay, but we think it could also be used as an embodied way of reflecting one's current mood and attitude. Social training simulations could be quickly implemented by assigning specific roles to avatars and then enacting these roles in-character.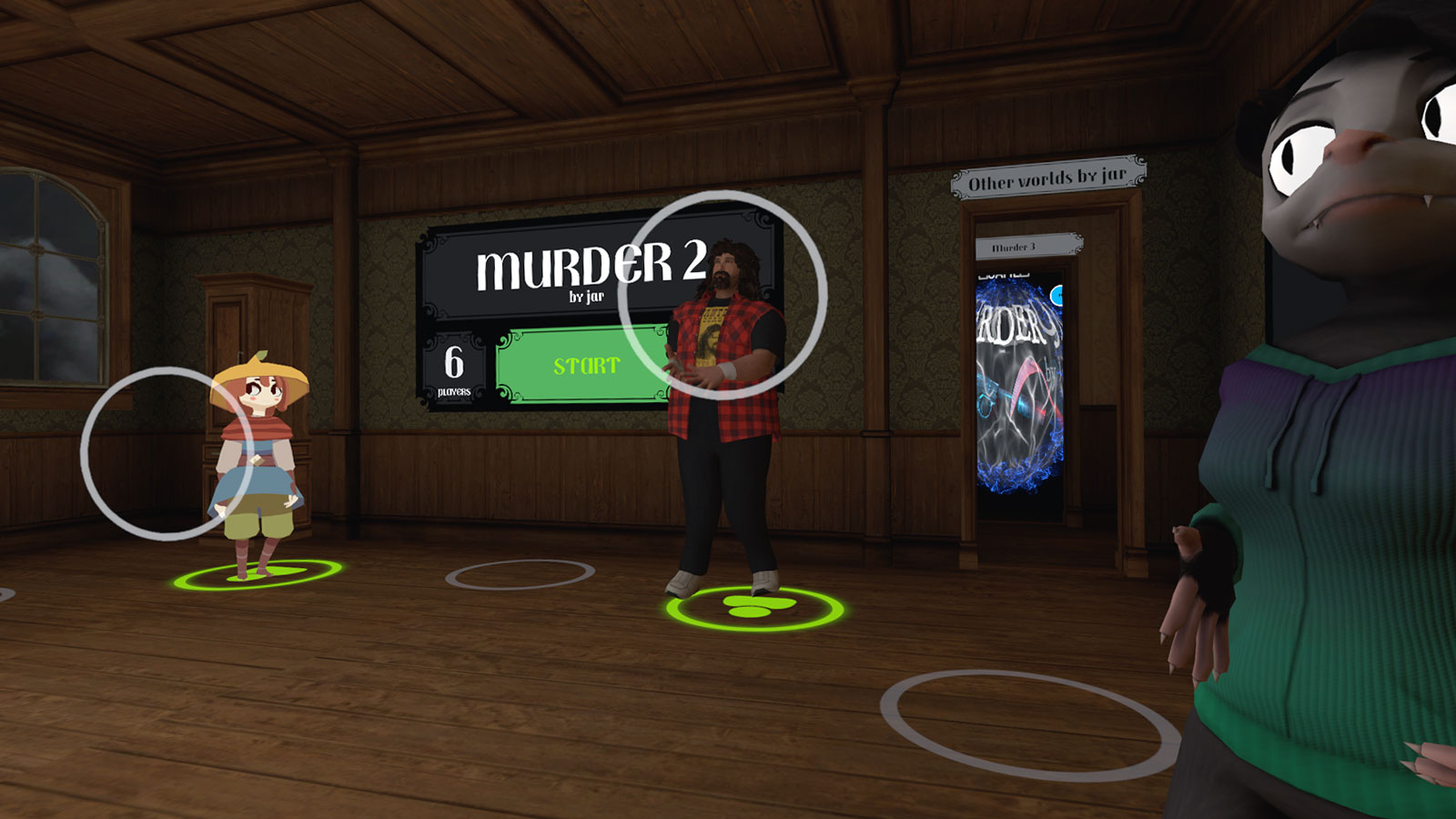 As our mission is currently to try out different virtual platforms to do work with, we evaluated VRChat in that aspect as well. We think that VRChat is not the best platform to have meetings or trainings, but it is a great platform for casual social gatherings and, of course, having fun. That being said, we think it could work really well as a tool for team building activities or recreation evenings.
VRChat also has a lot of potential in terms of customized spaces and features for those who can put in the handiwork of creating their personal scenes in Unity. With this, you could even create your own event areas with various rooms, and have a virtual conference there if you like!
Overall, we found VRChat very refreshing and fun. Shared activities definitely raised our team spirit, and we are positive that we will remember the experiences with VRChat for a looong time!
For a while it felt like being with your friends in an entertainment center, where you could choose the activity you like, and change to it quickly and easily without any queues. Isn't that convenient!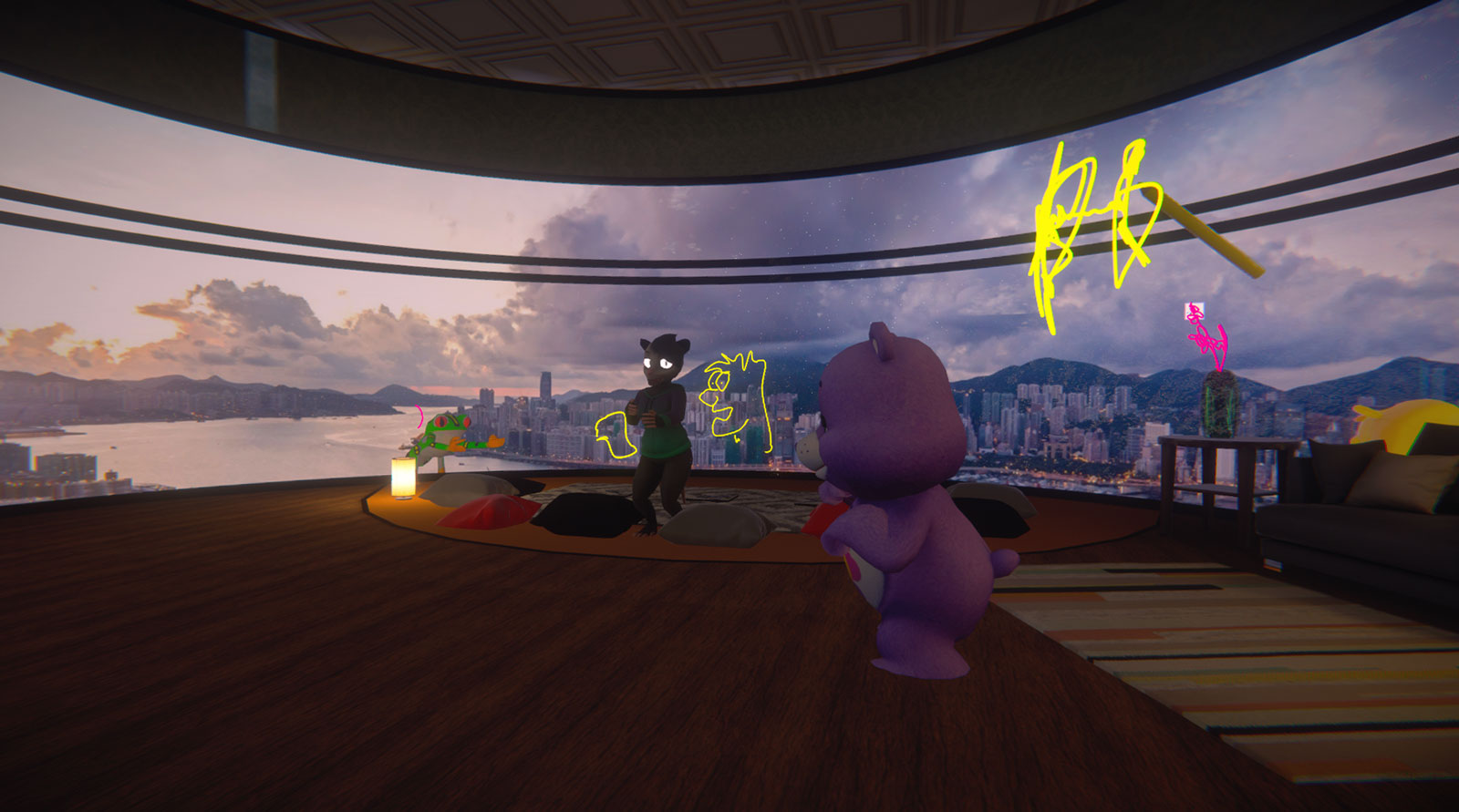 Hanging around and doodling in the air. What a view!
Huge pop-culture avatar selection: choose yours and change on the go, depending on your mood or inner form!
Highly customizable! If you have the time and know-how, you can build anything.
Having fun with various games and activities
Huge amount of community-created spaces
Works across platforms on PCVR and Quest —
— but some features are not available for Quest users
1 x WMR Samsung Odyssey+ with a desktop computer (RTX 2070, i5-6600K)
1 x Valve Index with a gaming laptop (RTX 2080, i7-9900K)
2 x Oculus Quest
1 x Oculus Rift S. with a regular work laptop
1 x Oculus Rift S. with a gaming laptop
The COVID-19 quarantine gave us, the Helsinki XR Center team, a great chance to explore virtual ways of working remotely. Our mission was to try out different kinds of virtual reality collaboration tools, and as a result, we wrote articles about our realizations and insights that came along the way.
If you missed the earlier articles, you can find them in the Working Remotely series.