In the midst of working from home, Helsinki XR Center team is testing Mozilla Hubs, a mobile-friendly VR platform.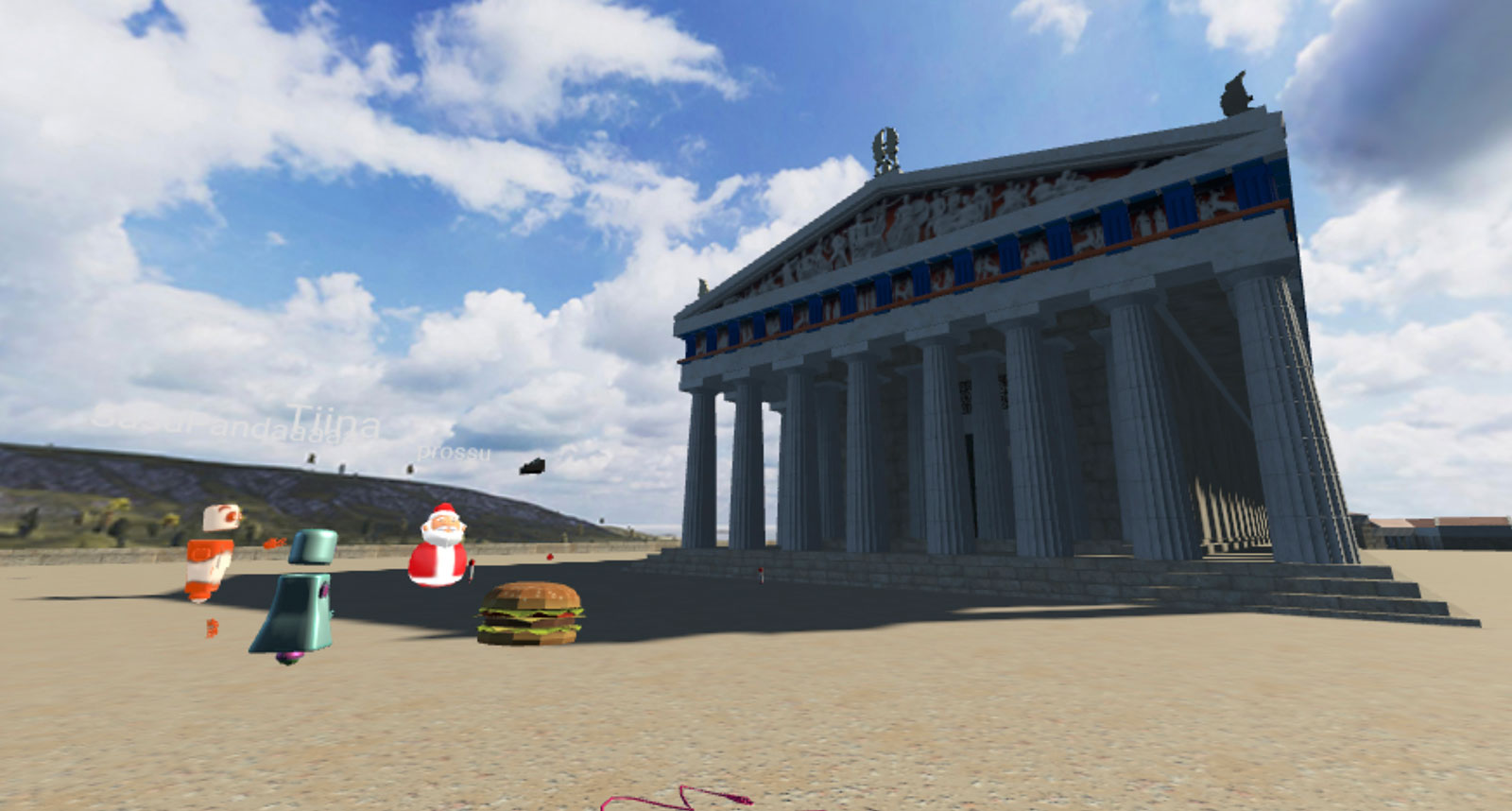 Mozilla Hubs
Hubs is an immersive social experience, an online 3D platform, that runs in your browser. It is free and works literally on every platform: with virtual reality headsets, on desktop, tablet and mobile. This is something that makes Mozilla Hubs quite special. As no installation process or app store is required, literally anyone can use Hubs.
One of the key features in Hubs is that it is open source and very customizable. You can upload your own avatar or build your own world. You don't need to have any previous experience to do this, as Mozilla has made Hubs its own online 3D editor called Spoke for this purpose. With Spoke you can upload your own 3D models, images and files to use in your building projects, but it also contains building kits and integrations with various content to help to get started with the building.
By inviting others to your space, you can for example host a conference, teach a class, create art, or just hang out with friends. Hubs rooms are private, available only to people who you share the url with.
Mozilla Hubs is one of Mozilla's projects, and it was launched in April 2018. Hubs is experimental by nature, and constantly developing.
Mozilla Hubs is "built for every device, built for privacy and built for scaling."
Casually exploring some 3D objects, such as a cat, in front of a 3D model of a reconstructed Parthenon.
Mozilla Hubs in action
Starting up the testing session with Mozilla Hubs was the quickest so far in our testings. Our testing crew really enjoyed it, as we didn't need to wait for any heavy downloads or installations — we could jump right in.
… Well, at least most of us could. Unfortunately one user with Samsung Odyssey+ and one with Oculus Rift S. headset didn't get into the space at all. Whatever they did they saw only a full black screen, and because of that, they eventually changed to use the desktop view. In these kinds of tricky situations it sure is very convenient that Mozilla Hubs works also with other devices than VR headsets!
In the end, our team's equipment consisted of a wide range of devices, and some of us used the platform with several devices within the same session. We enjoyed the simple user interface very much, and especially Oculus Quest users praised the smooth experience. Getting to know all the features and actions of Mozilla Hubs took a while for all of us, but this is something you always need to go through when you're starting to use a new platform.
There was one ability in the Avatar Menu that managed to confuse us: the Hide functionality. When one of us used the Hide function on someone, the target of the action could no more be seen or heard by the one who performed the action. For others, the "hidden" person was still visible, and everything seemed normal. As the one who performed the action did no more see the person who was hidden, it was really hard to distinguish were they still in the room or not. On top of this, it seems that the only way to reverse the action was to log in and out again, which is a bit troublesome. There were no indications that someone had been hidden (not even for the one who performed the action), and this may be a bit problematic if someone uses the hide function by accident. You may not realize that you have hidden someone — especially if there's only two of you in the room.
Drawing in the air with a 3D pen in Mozilla Hubs.
One thing worth mentioning is that the usage with mobile phones was surprisingly easy, smooth and very intuitive. Some of us even felt that the experience with VR headsets was a bit more clumsy than with desktop or mobile. This was certainly something we did not expect!
Browsing various 3D objects, placing them and playing around with them in the space was a lot of fun. Even downloading your own objects to Mozilla Hubs was very straightforward. It was also refreshing and interesting to see extremely detailed 3D objects in virtual space, as object design tends to be very simple in virtual reality solutions.
It was also fun to follow the count of objects in the space, and watch how the oldest objects disappeared from the way of the new ones. Maybe someday there will not be any limit for the objects in the space?
The possibility to draw 3D forms in the air was cool, but unfortunately it didn't work very well with desktop. With desktop you could only draw to walls, ground and other flat surfaces, which kind of took the "wow" out of the feature.
The ability to create own scenes with Spoke is a great addition to Mozilla Hubs. Starting up with Spoke has been made very easy with the ready-made building kits, and the interface seemed to be overall quite understandable. And if you want to import your own 3D objects to Mozilla Hubs, you can do that as well!
It seems that Mozilla has managed to create a platform that engages people in every aspect of the experience: avatars, objects and spaces, but it also taught us that it really is possible to create a virtual platform that works with any device. These are certainly great achievements!
Exploring a corona virus 3D model inside Mozilla Hubs.
Is Mozilla Hubs suitable for work?
Even though the platform works with many devices, Mozilla Hubs informs that the performance will vary based on the devices that the attendees are connecting with. Hubs state that "mobile devices (phones and standalone headsets) may have performance challenges when there are more than 10 people in an individual room." This is something that should be considered, if you are thinking about meetings or other events with more than 10 people.
The fact that the user doesn't need to install any software to use Mozilla Hubs could be very useful for example in cases where one's customer is on the other side of the globe, but you still want to show your 3D designs in a proper way. In this situation, you could add your 3D designs to Mozilla Hubs online environment, and the customer could join in very quickly and easily, without any software installation or hardware requirements. The platform could this way work as a 3D design showcase, review or feedback session with customers or other stakeholders.
Mozilla Hubs is said to be suitable for events, and we were very excited to see it for ourselves. It turned out that as it is, Mozilla Hubs could be used as a platform for smaller occasions, as it has the maximum room capacity of 24 users. Unfortunately the user interface wasn't very great eventwise, as for example if the chat was closed and you got new messages, you didn't get any notifications or other indications about it. But as we know, Mozilla Hubs is constantly developing, and this kind of small things may be improved in the future.
We did some graffiti art as well!
The best use workwise for Mozilla Hubs could be meetings with approximately six people in which you could have discussion sessions where the main point is in interaction and engaging with one another. Mozilla Hubs has the feature of screen share, and you can show videos and slideshows with it, but in its current state, we don't think it really adds any new value to regular video meetings.
We felt that workshop tools such as whiteboards, post-its or some kind of a voice amplifiers for the speaker or discussion leader, were missing from this platform. But on the other hand, the possibility to do many actions, especially unnecessary ones, could also distract participants from the ongoing meeting.
Even though we found some challenges with Mozilla Hubs workwise, we think that the whole open source idea behind it is very fresh and exciting. Mozilla Hubs binds together the essence of XR scene: we are changing and developing this world, together, and the only way to grow is teamwork and visibility.
And with this said, we are very eager to see what Mozilla Hubs will grow to be in the future!
Testing equipment
1 x Valve Index with a gaming laptop (RTX 2080, i7-9900K)
1 x Oculus Quest
1 x Oculus Rift S. with a gaming laptop
1 x Oculus Rift S. with a regular work laptop (didn't work, user changed to another device)
1 x WMR Samsung Odyssey+ with a desktop computer (RTX 2070, i5-6600K) (didn't work, user changed to another device)
2 x mobile phones
1 x Mac Book Pro laptop
The COVID-19 quarantine gave us, the Helsinki XR Center team, a great chance to explore virtual ways of working remotely. Our mission was to try out different kinds of virtual reality collaboration tools, and as a result, we wrote articles about our realizations and insights that came along the way.
If you missed the earlier articles, you can find them in the Working Remotely series.