The third expedition in our "testing out virtual reality collaboration tools" series took us to Bigscreen VR. Can it be used for work?
Bigscreen VR
The 2014 founded startup Bigscreen VR aims to revolutionize entertainment and work cultures by offering a tool to watch existing movies, play video games, browse the web and hangout with friends. Bigscreen invites us to think how we can use our computers in new socializing ways.
Currently Bigscreen delivers best in virtual movie nights as its name suggests. However, it has potential to be used in other ways too, if people are brave enough to think outside the box.
Bigscreen cinema, a particular moviegoing experience within Bigscreen, offers people the opportunity to go to virtual movie theaters to watch movies with other people. You can hang out in the lobby and discuss with other fans or grab some popcorn. Next you can move to the theater hall and watch the film. Afterwards you can share your thoughts in the lobby with others. Notice that the movie availability and pricing depends on your country.
We did not test the cinema with the HXRC team. Instead, we tested creating a free private room to hang out and have a meeting.
Helsinki XR Center crew testing out the selfie stick in Bigscreen VR.
Our Bigscreen VR experience
At first, we created new profiles in the Bigscreen website, and then one of our members created a room and shared the room ID to others in Microsoft Teams chat. The others looked the ID and wrote it to the join room section, and were then moved to the private room immediately. This was working fine with both wired and wireless VR devices, through SteamVR or Oculus store application.
Indeed, the big screen in the private room was the most impressive tool to use. It worked nicely and looked good near and far. One team member had problems with the video lagging and breaking a lot, but it turned out to be a consequence of a weaker internet connection.
Movement in the room happened by teleporting to pinpointed locations and by real movement in your VR play area. The number of pinpointed places reduces the amount of people in some environments, but the experience is best with under 10 people anyhow. The volume of people's voices correlated with the distance they were, so discussions couldn't be heard to the other side of a large room.
Unfortunately, because our party consisted of eight people, only the host was able to show stuff on the screen due to universal screen sharing being limited only to groups of 4 and less. The host was able to change the room environment without anyone dropping out of the room, but it is not possible to move everyone at the same time to someone else's private room.
In addition to the big screen in the room, everyone can take out a popcorn box, soda, tomato, keyboard, selfie stick, and 3D pen kit from their menu.
Throwing some tomatoes in Bigscreen VR.
The popcorn box, soda and tomato are objects to play with, perfect for the movie night of course. Some of us thought that these fun features may be a distraction in meetings, but then again, one of our team member suggested that the throwing of a tomato to someone could be used as a "I give you the say" kind of gesture in a meeting setup.
The other tools were great for meeting use: the keyboard for writing, the selfie stick to take selfies and other photos, and the 3D pen kit to do 3D drawings in the air with a few different kinds of pencils and an eraser.
Our favourite features of Bigscreen VR
Great quality screen sharing via the big screen
Screen share is not restricted to specific programs
Feel of intimacy and togetherness
Customizable avatar
Throwing popcorn everywhere!
As noted earlier, Bigscreen is very good for showing stuff via the big screen in every room. The obvious use cases are social movie nights or watching streams together, which could be a part of the program for example at team recreation evenings.
From the perspective of professional use, we think that the high quality screen sharing feature could be used for example at remote audiovisual production reviews, video releases and premieres, or any other meetings that require the use of a big screen. These situations need a feel of togetherness and quality, and there is a big difference if you are watching a video for the first time in a virtual movie theater together with your co-workers where you can actually see their presence, or alone at home staring at a small screen.
And after the screening, the discussion about the video can be continued together right away, "face-to-face" with spatial presence and simple body language.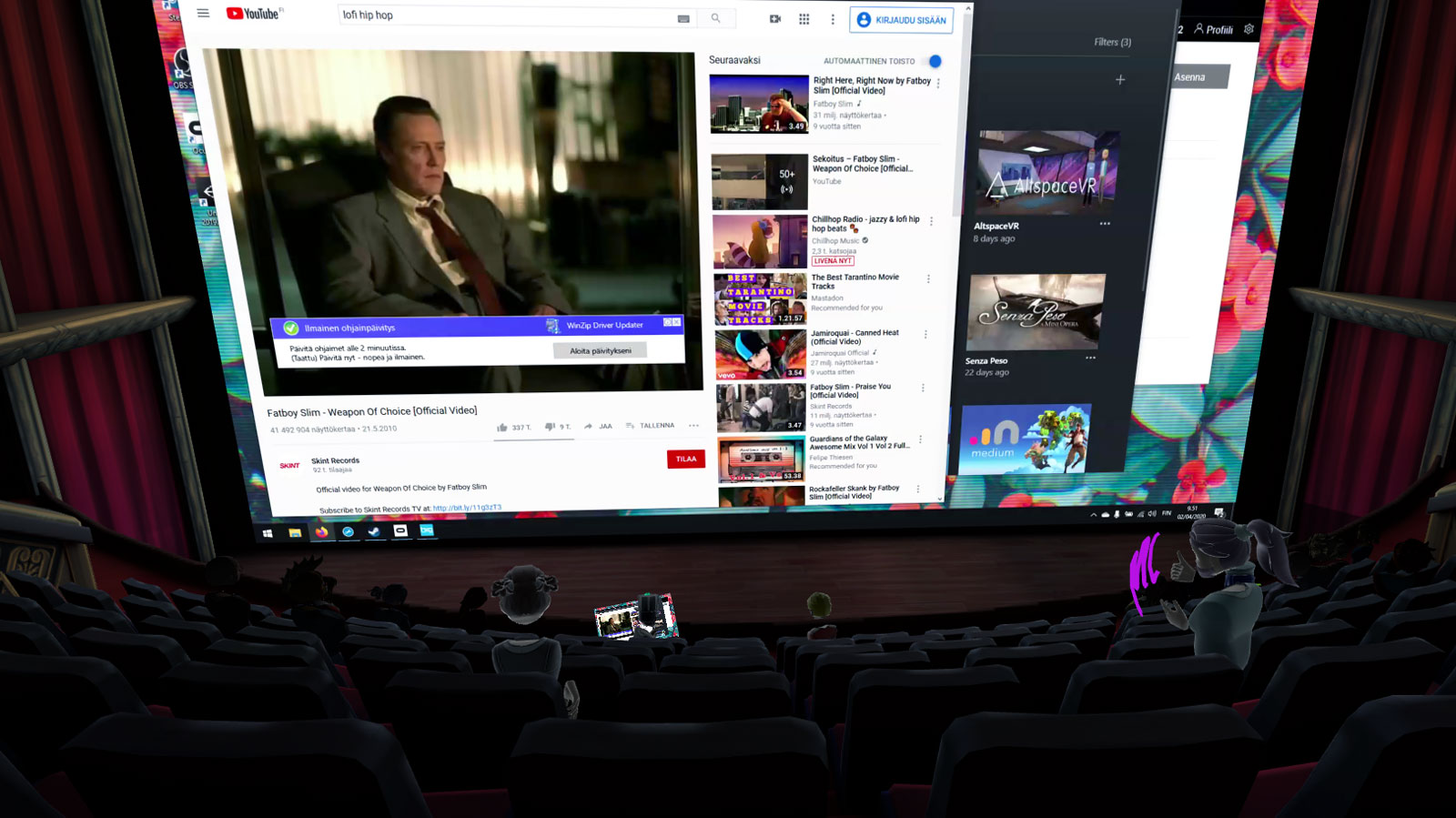 Watching Youtube videos on a big screen in Bigscreen VR.
We noticed that the use of Bigscreen VR gave a sense of togetherness that can not be achieved via regular video meetings. You are in the same room, watching the same thing, and then discussing about it in the same space. You can see each other, look at each other, talk to each other.
So if you need a platform to screen your stuff to your coworkers or friends remotely, and maybe afterwards discuss it, we recommend Bigscreen VR. It's a rent-free movie theatre, after all!
1 x WMR Samsung Odyssey+ with a desktop computer (RTX 2070, i5-6600K)
1 x Valve Index with a gaming laptop (RTX 2080, i7-9900K)
1 x Oculus Quest
1 x Oculus Rift S. with a regular work laptop
1 x Oculus Rift S. with a gaming laptop
The COVID-19 quarantine gave us, the Helsinki XR Center team, a great chance to explore virtual ways of working remotely. Our mission was to try out different kinds of virtual reality collaboration tools, and as a result, we wrote articles about our realizations and insights that came along the way.
If you missed the earlier articles, you can find them in the Working Remotely series.