For the past year, Lauri Kuusisto has been doing his non-military service at the Helsinki XR Center. For him, combining programming and XR technologies (as well as destroying virtual blocks) was a dream come true!
Text and pictures by Lauri Kuusisto

Hi! I'm Lauri and for the past 11 months I have been doing my non-military service at the Helsinki XR Center!
I graduated from Metropolia during the spring of 2020 as a game developer.
As a graduate, it is quite difficult to find a job in the gaming biz – so acknowledging that, I wanted to use the non-military service as a way to improve my programming skills. I was also hoping that since I was gaining relevant work experience, it might make job searching easier (spoilers: it did!).
Doing the non-military service at the Helsinki XR Center has been absolutely amazing! Not only have I been able to bring my programming skills to a whole new level, I have also learned a ton about different AR and VR devices. Not only that, but I learned how to create content for them, and to improve already existing tools. Most importantly this whole time I have been able to continue to do what I love: programming.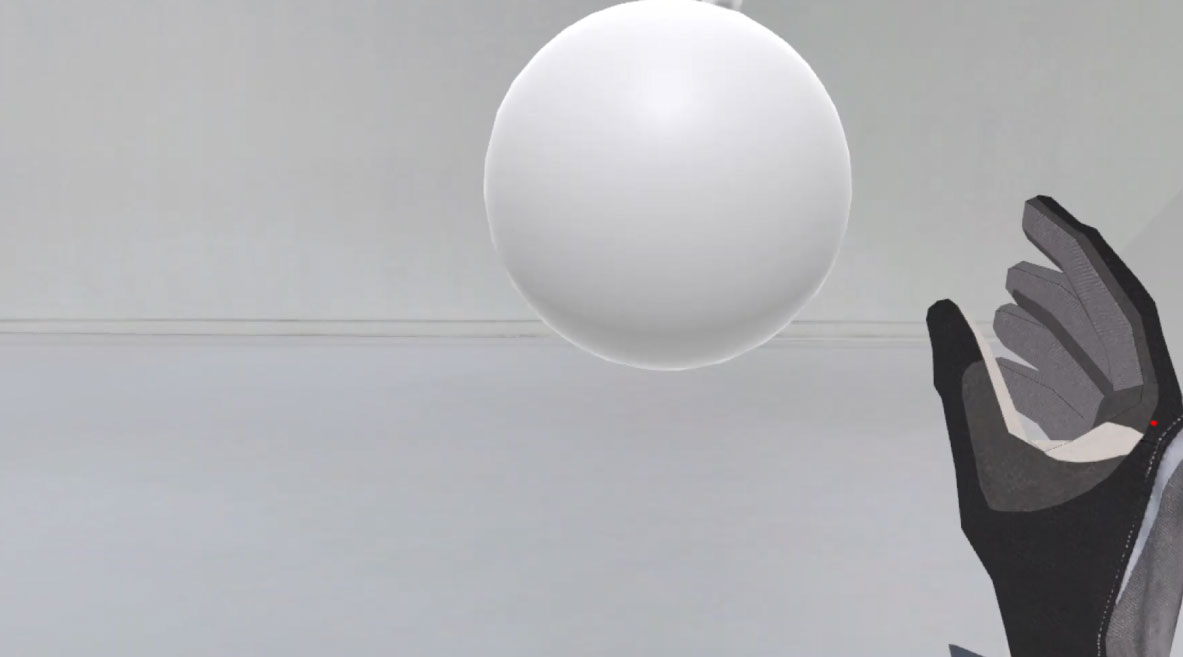 It's a punching bag – you just have to squint a bit!
I started every day with a cup of coffee. After all, the definition of a programmer is a coffee-fueled organism that turns said liquid into software! 😉
Then I did my morning ritual: checked my emails, opened my preferred code editor (Rider rules!), and continued with whatever project I was working on at the time.
Although I did not mind spending all day behind my comfortable desk with a cup of coffee, it was a nice change of pace to stand up and take projects for a spin in the virtual world I had created! I love going outside and exercising, so getting to combine the everyday programming with movement, as well as new AR/VR tools, was a thrill!
One of the best memories I made during my non-military service at the Helsinki XR Center was testing out a new VR physics engine Interact, made by Light & Shadows. The engine was designed to calculate extremely accurate collisions and other physical interactions in virtual reality (and, might I add, it simultaneously melted my laptop), but I used it as a warm-up before my gym routine at home: since the engine was quite easy to use, it was easy to create a virtual punching bag and start my workout routine with a virtual shadow punching session!
Once a week I also went to the HXRC office to maintain the computers and other devices there. There are a lot of startup companies working in HXRC, so it was important to make sure that the devices they used were always in top condition and ready to be used!
The variety between the many projects I got to partake in kept me interested during my non-military service. I learned something new from each one, which I am grateful for!
My biggest project was for the Akseli Gallen-Kallela museum, for which I got to design and program an educational mobile game for the outdoors. The museum uses the game for showing information about the exhibits that are located around the house where the painter Akseli Gallen-Kallela used to live.
Another project I got to partake in was the above-mentioned punching bag project, where I did different kinds of collision testing by creating towers of cubes and then demolishing them with a wrecking ball. While breaking the towers, I found my inner child again. I was breaking down my virtual world so aggressively that my girlfriend had to inform me that in my enthusiasm I had almost started breaking down the actual world! So I had to tone the fun down, just a little bit.
I also got to be a part of a prototyping project in which me and some students tried to create a virtual world on a website, and then add some 3D models for it. While doing the project I felt like I was part of something futuristic and new, and it's exciting that in the future doing something like this will be everyday business. I can just imagine how designers from different fields will be able to show off their prototypes by simply putting them in a virtual world! For example, designing a kitchen or a terrace for a specific environment would be quite easy if you could look at the finished product through VR or AR glasses before starting the actual construction.
The main menu of Akselin Askelissa.
Doing my non-military service at the Helsinki XR Center has been a dream come true.
All the projects I have been part of have been extremely rewarding, and have taught me something new. All the people at the HXRC are wonderful and supportive, and I have never seen better team spirit anywhere I have worked at so far.
Because of Covid-19 we mostly saw each other through Microsoft Teams and I would have loved to hang out at the office and get to know my teammates better – but as the popular saying goes, it is what it is. We all have to make the best out of the situation and I think HXRC coped wonderfully.
All in all, I cannot imagine a better way to carry out the non-military service than this – especially if you are interested in the VR/AR business. If anyone reading this is searching for a place to do their civil service, I cannot recommend Helsinki XR Center highly enough!