The results of our second open call are now official: seven new teams will be moving to Helsinki XR Center during the spring.
Earlier this year we had the second open call for XR developer teams. Decisions of the new teams were made in the end of February, and the results are now official: seven new teams will be moving to Helsinki XR Center during the spring, and continue the development of their interesting projects. The new teams are called:
Sciar
HorusAR
Unfold Stories
Art In Extensions
Team Helmion
Imarre LTD
Virtual Circus Finland
In addition to the new teams, XR Hub has eight teams from the first open call currently active:
AXiiO (TheaterVR)
Critical Charm
Skeleton Conductor
Evacrity VR
Radical Rabbit
Sense of Space
361
XR Instruments
Last Monday was filled with curiosity as the old and new teams gathered for a launch day at the Helsinki XR Center. The teams familiarized themselves with each other and introduced their project ideas. Briefly put, Helsinki XR Center got great and promising additions to the community combining the fields of art, software development, design, life sciences and more.
We are welcoming the new teams with a big heart and a lot of excitement!
About the XR Hub
The Helsinki XR Center (HXRC) offers shared work space and equipment for teams, companies and individuals in their early phase of development of Virtual Reality (VR), Augmented Reality (AR) or Mixed Reality (MR) projects. Our objective is to support grassroots activity and innovation of Finnish VR/AR teams, help with the transition into spatial computing mediums and reduce the early risks involved in hi-tech Research & Development, as well as to build a flourishing community around virtual culture phenomena.
All of the XR Hub teams get to use Helsinki XR Center's 1000 square meters of comfortable and modern office space, as well as our state of the art showroom space for audience, customer and investor showcases. The teams are a part of an active and encouraging developer community, and get access to shared quality equipment from workstations to XR devices. Using the space and its equipment does not cost anything nor bind the team in any way. All the work and rights to it stay within the developing team.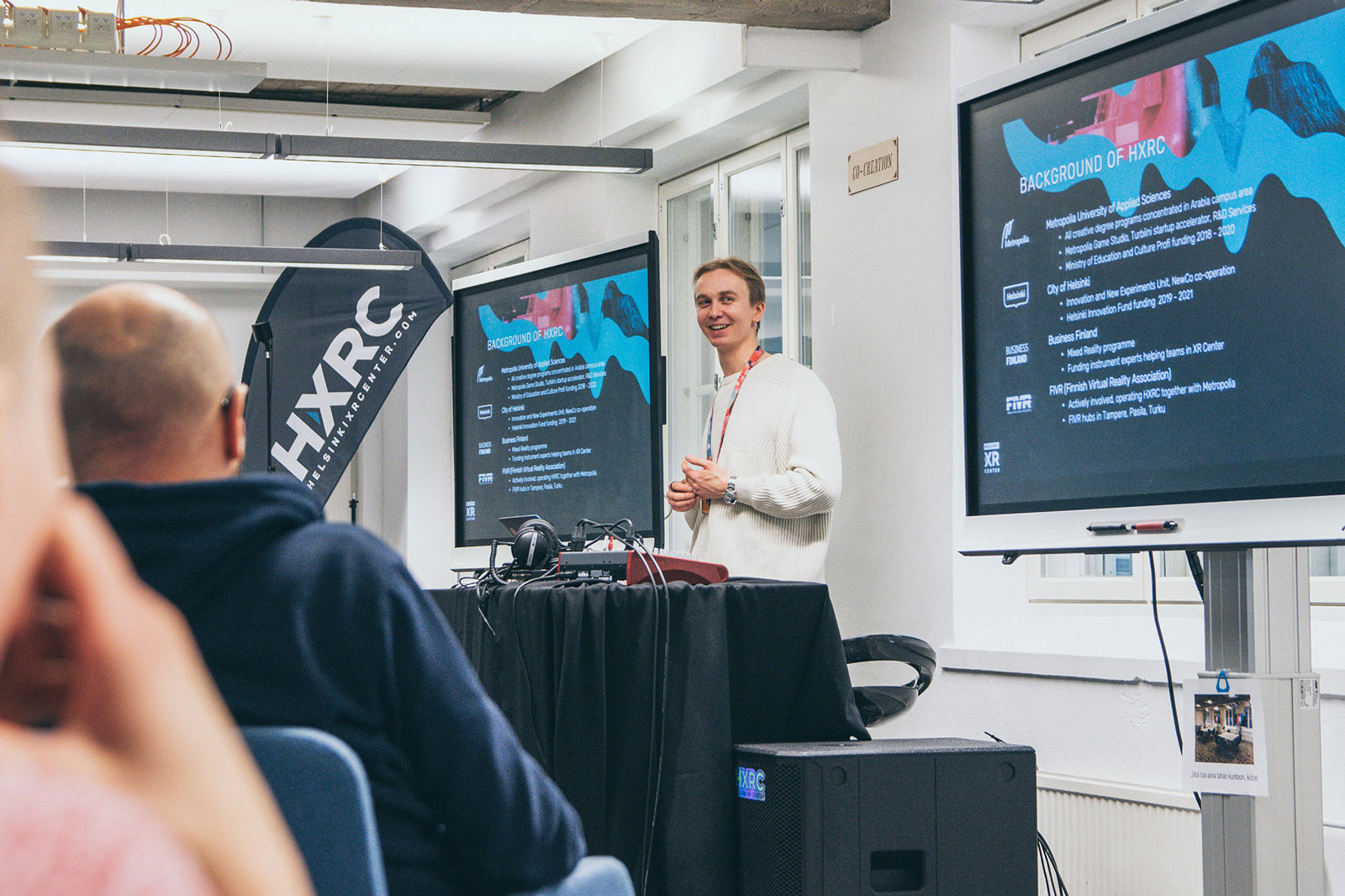 Helsinki XR Center's XR Curator Santeri Suominen welcoming new XR Hub teams.
The teams are also offered coaching and contacts for business development from tech, creative and funding experts. Helsinki XR Center also arranges events all around the year for meeting peers, mentors, enthusiasts and collaborators, and all of the XR Hub teams are naturally free to participate these events.
Helsinki XR Center's development program is based on a periodical, peer reviewed format with individual goals for each team and project. It consists of three stages, starting with a three-month trial period where the central idea of the teams vision is fleshed out. Then the team moves to a six-month extension period where minimum viable product/project is established and the team takes shape. After these two phases, the HXRC crew discusses case-by-case extension periods with the team depending on development situation, team viability, progress and potential.
Helsinki XR Center functions as FIVR's (Finnish Virtual Reality Association) main developer hub in the Finnish capital region. This means that when a team joins the Helsinki XR Center's hub, they also get the access to a much wider community of XR developers and enthusiast across the country.
For more information about the XR Hub, please contact: info(at)helsinkixrcenter.com