To preserve the historic locations of King's Road, our summer trainee Laura Kankkunen headed out to capture them on a 360-degree camera.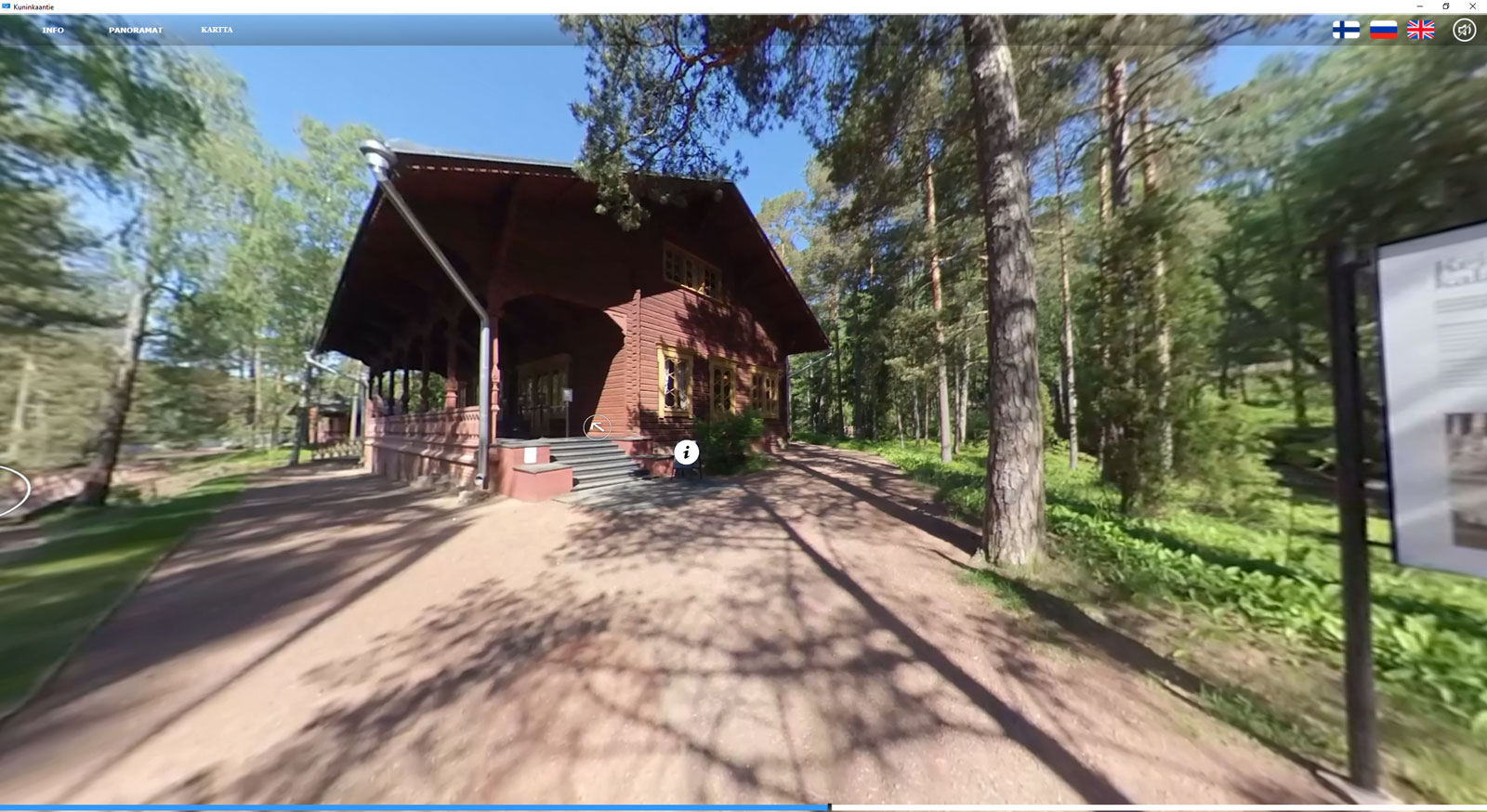 A view of the Imperial Fishing Hut of tzar Alexander III, captured in the 360-degree software.
Text and photos by Laura Kankkunen
Hi, I'm Laura Kankkunen! I just started my 4th year in the XR Design program, and next year I'm going to graduate as an XR designer. This summer I did my first internship, which was working with the King's Road project at the Helsinki XR Center. I was responsible mostly for the technical side of things, like photographing and filming with a special 360-degree camera.
The internship started in June, when Lumi was still also doing hers. Together, we travelled along the King's Road: Renascence and shot 360-degree photos and videos of the historic destinations. We also had a DSLR camera with us, which I used to photograph interesting details. You can also read Lumi's blog post on becoming a producer on King's Road!
Visiting these interesting places was definitely memorable! Since we were mostly shooting outside, we were lucky to have sunny and warm weather, which created a lovely summer atmosphere in the photos. Though the direct sunlight shining into the camera lens wasn't ideal, but having rain would have most likely delayed our schedule.
After the trip I first stitched the videos and photos together using the 360-degree camera's own software. Then I started working on the 3D tours of the Kings' Road destinations in the 3DVista Virtual Tour Pro program. I had already used the software for school, so figuring it out didn't take too long. For the final result I drew a map of the King's Road, stretching from Turku to St. Petersburg, which you can use to virtually visit the locations and see information about them in pop-up windows. The version I is not currently publicly available, but the work should continue next year!
Aside from the shooting trip I mostly worked independently, which made me miss working at the office and socialising. But at least during the weekly Teams meetings with the Helsinki XR Center team I got to participate in the friendly atmosphere. Overall I'm happy with the experience, and would recommend the Helsinki XR Center's internships to others, too!

Funded by the European Union, the Russian Federation and the Republic of Finland.