Meet Dementia XR! This fearless team is aiming to reduce the growing dementia burden on global society in the coming decade.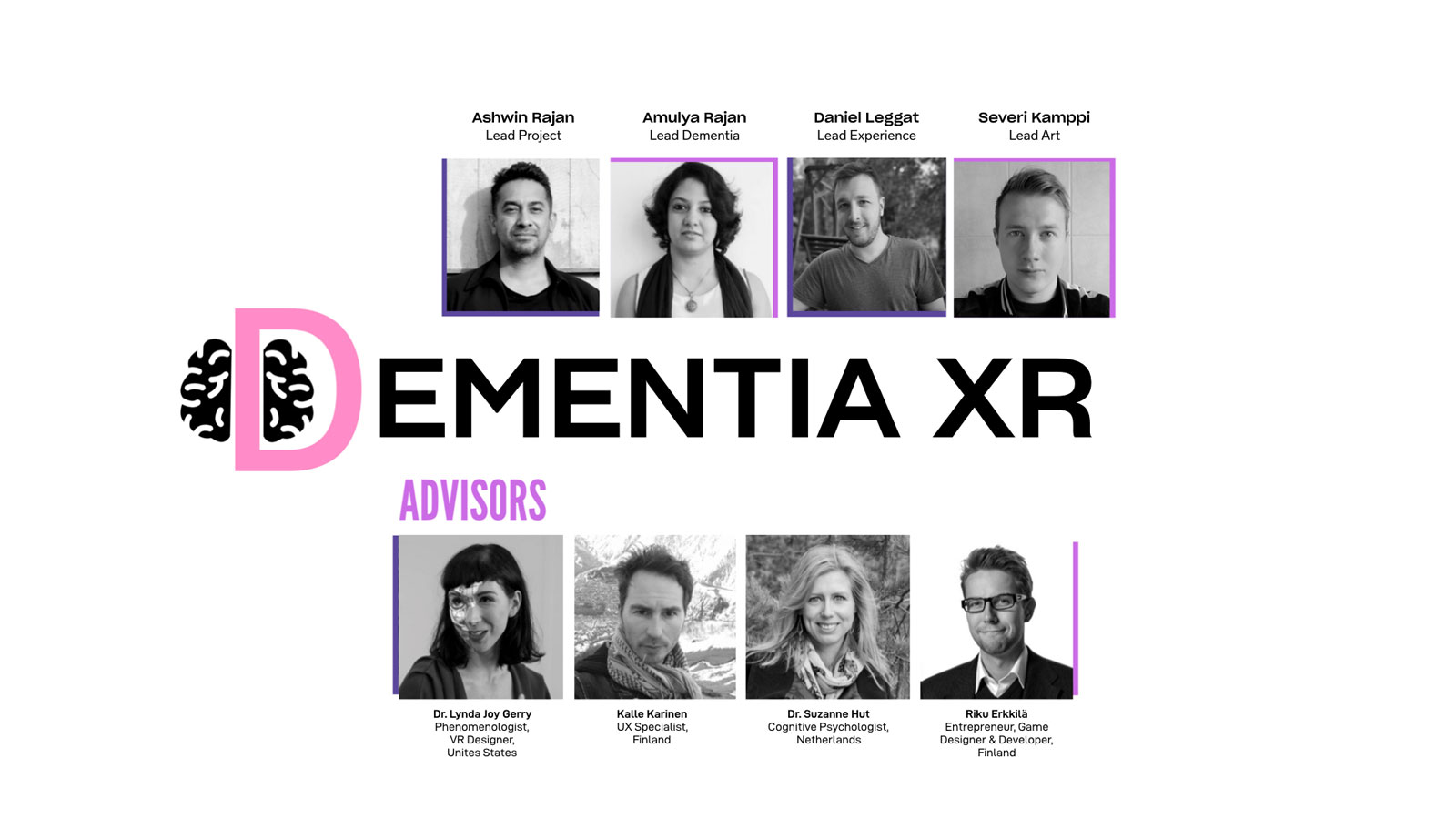 During 2020, we have been posting articles about our XR Hub teams. These articles have been written based on interview questions answered by the teams themselves. If you have missed the previous articles, you can find them in the Hub Team Introductions category!
As the year of 2020 is coming to an end, it is time to introduce the last team of the year: Dementia XR!
What does your team do?
We are called Dementia XR. We aim to reduce the growing dementia burden on global society in the coming decades.
What is the idea/mission behind your team?
Across our professional careers, our core team members have been very interested in solving for both ends of the age spectrum. With regard to human ageing, an increasingly prosperous world means people are living longer – but does that ensure a great life-quality in the final decades of one's life? Right now, not really! We are interested in making an impact there with Dementia XR.
Tell us about your team members!
Our team consists of a core backed up by a set of advisors.
Ashwin Rajan and Amulya Rajan, a sibling duo who initiated the project, both have degrees in behavioral science in areas like cognitive and social psychology. Ashwin further specialised in interaction design and has 20 years of experience in digital innovation across industries. Amulya went deeper into behavioral science and now specialises as a Dementia Specialist based in India, having worked with some of the leading clinics and care centres on the continent.
The duo encountered the travails of Dementia first hand when they witnessed the cognitive decline of their grandfather Veeravalli Narayan during his final years, and decided to do something about this massively complex and growing problem. They teamed up first with Severi Kamppi, a young Finnish 3D artist and then with Daniel Leggat, an experience & industrial designer and XR developer (both of whom made a strong impression with us!) – thanks to the wonderful Helsinki XR Center!
Our core team has then gone on to add more members while also bringing on a panel of fantastic advisors who are helping us move forward with our project.
What project are you currently working on?
Our team members are multidiciplinary and globally dispersed; we are each pursuing multiple projects & initiatives. Ashwin continues to deliver client innovation engagements via his consulting outfit Fabric, while Amulya is pushing forward with her design thinking education venture Jugaad Space in Hyderabad, India. Meanwhile Daniel is consulting for leading organisations to build cutting-edge XR experiences via his company Alter – Experience Ideas based in Helsinki; his current clients include Varjo and Anarky labs. Severi continues to deliver great art at Frozenbyte, an indie game developer in Helsinki.
Why did you decide to join Helsinki XR Center's XR developer hub?
We were lucky to get the opportunity to join the Helsinki XR Center within its first cohort of teams in 2019. We had been working on our idea for a little while. We needed exactly this sort of combination of top-notch founding & management team, space, resources, and the fantastic talent & industry network around the centre – to learn and innovate simultaneously in this emerging domain on-the-go. The Helsinki XR Center is simply one of the most obvious choices as the place to be if anyone is interested in doing anything XR.
When did you join the XR Hub, and how long had your team existed before joining?
We joined in… wow, sometime in early 2019 already …and our team had been in existence for some 6 months or so before then. Ashwin and Amulya had been pondering this problem for some years before then, at a natural intersection of our professional and research interests meeting the dementia experience of our grandfather, as I mentioned.
As a part of the XR Hub, how has your experience been so far?
The XRHub has been a pleasant surprise in every way for us. The quality of the projects and people there is super. The quality of conversations, inspiration and ongoing activities is continuous and enriching. A big shout out to the core team that keeps all the action grooving! 😉 The vibe there is very professional, yet warm, human, curious, playful – and humble! We love how relaxed and non-egotistical the place is – and yet the people are so smart and can get into very in-depth, complex discussions and issues without breaking a sweat.
Further, the space is roomy, located in an inspiring campus and being in a design and education district goes a long way in stimulating creativity. I just hope we can get back together being in the space more after the pandemic is controlled.
What is the most interesting or exciting thing about 'extended reality'?
It is the fact that in terms of an experience, the word 'extended' soon becomes redundant, can be dropped. XR has the potential to simply become 'reality' – but without the limits of the traditional one that we are used to. You are looking at a breakdown of what is considered 'real' into innumerable components – physical, social, emotional, cognitive, financial and so on – and the re-assembly of those components into new configurations of experience – and consequently, new configurations of value. In many ways this is starting to happen already. Early days!
Any other comments you would like to add to this interview?
Excited to finally be working in the XR space that we have been eyeing for some time, thanks to the Helsinki XR Center. Keep the amazing work going and we are sure a lot more teams will benefit hugely from your work! Thank you deeply. 🙂
This post is a part of the article series about Helsinki XR Center's hub teams. In this series, we have been posting team introductions on a weekly basis during the year of 2020. This has been your chance to get to know our talented XR community!
If you missed the earlier XR Hub team introductions, they are available in our website's News section.
Follow our social media channels and website's News section to stay posted for new articles!