Using the latest XR technology, Anarky Labs is solving the problem of professional pilots having to look away from the sky to hard-to-read controllers when flying drones.
Anarky Labs' Lassi Immonen (on the left) and Hannu Lesonen (on the right).
During 2020, we have been posting articles about our XR Hub teams. These articles have been written based on interview questions answered by the teams themselves. If you have missed the previous articles, you can find them in the Hub Team Introductions category!
Today we are excited to introduce to you: Anarky Labs!
What does your team do?
We are creating a disruptive user experience for the professional drone pilots with spatial interfaces and world-based data visualizations using latest augmented or mixed reality technology, ie. the Microsoft Hololens 2. So, we are combining drones and augmented reality and doing it outside, which is fun!
What is the idea/mission behind your team?
We are solving the problem of the professional or commercial drone pilots having to look away from the robot in the sky into the small displays in their controllers which are crammed full of hard to read information. By showing the crucial elements of this information and especially displaying further info that aids in controlling the drone in the sky, where the drone actually is, we allow the pilots to return their gaze up where it belongs. This will greatly enhance the situational awareness of the pilots, and so improves the safety and productivity of the drone missions.
Tell us about your team members!
We are a team of four:
ÉMILIE COHEN leading our marketing efforts,
DANIEL LEGGAT helping design and develop the actual user interface,
LASSI IMMONEN as the CTO leading the development, and
HANNU LESONEN as CEO taking care that we can keep going, ie. finding the funding for this pretty huge project.
What project are you currently working on?
Only the one professional drone UX project, but the feature roadmap is huge, and we are already being asked for specific extra features by expert operators. And the drones of course are only the first steppingstone of these world-based user interfaces that we are planning."
In the video below you can see Stephen Sutton trying out Anarky Labs' product, and how his first reactions were like:
Why did you decide to join Helsinki XR Center's XR developer hub?
I first met Santeri Suominen at AWE EU 2019 in Münich, and then contacted him again when we were founding the company. With the very warm welcome to join we quickly received, and the incredible teams here already, it was really a no brainer for us. Even when, for my household, it meant moving from Turku to Helsinki!
When did you join the XR Hub, and how long had your team existed before joining?
We joined at the start of March this year (2020), and the company was founded 1st of March 2020, so not for very long!
As a part of the XR Hub, how has your experience been so far?
The experience has been truly excellent and really, an enabler for our development, as it seems the XR Center was one of the first places in Europe to receive the MS Hololens 2, which is our main development target. So that jumpstarted our early development, as we thought we would have to first start with Hololens 1 and just wait patiently until the version 2 would become available for real.
Also, talking with like-minded people and teams is just so good for the spirit of doing and getting feedback, but perhaps most crucially, the new, fresh ideas that suddenly sprout out of discussions is really the golden part. We have added several future features and even possible roadmap directions just based on talks with the fellows here, and with the guests visiting, too!"
"We just love the community and the spirit of this place, thanks for letting us be part of it!
What is the most interesting or exciting thing about 'extended reality'?
That you can make invisible things and data visible, understandable, and even interactable with! All these data gathering robots, IoT devices and of course mobile phones have such wealth of knowledge about our surroundings, even about us, and now we can try to show it in meaningful ways with means given by the extended reality tools. The usability of extended reality is a fascinating topic of research and testing.
Anarky Labs on social media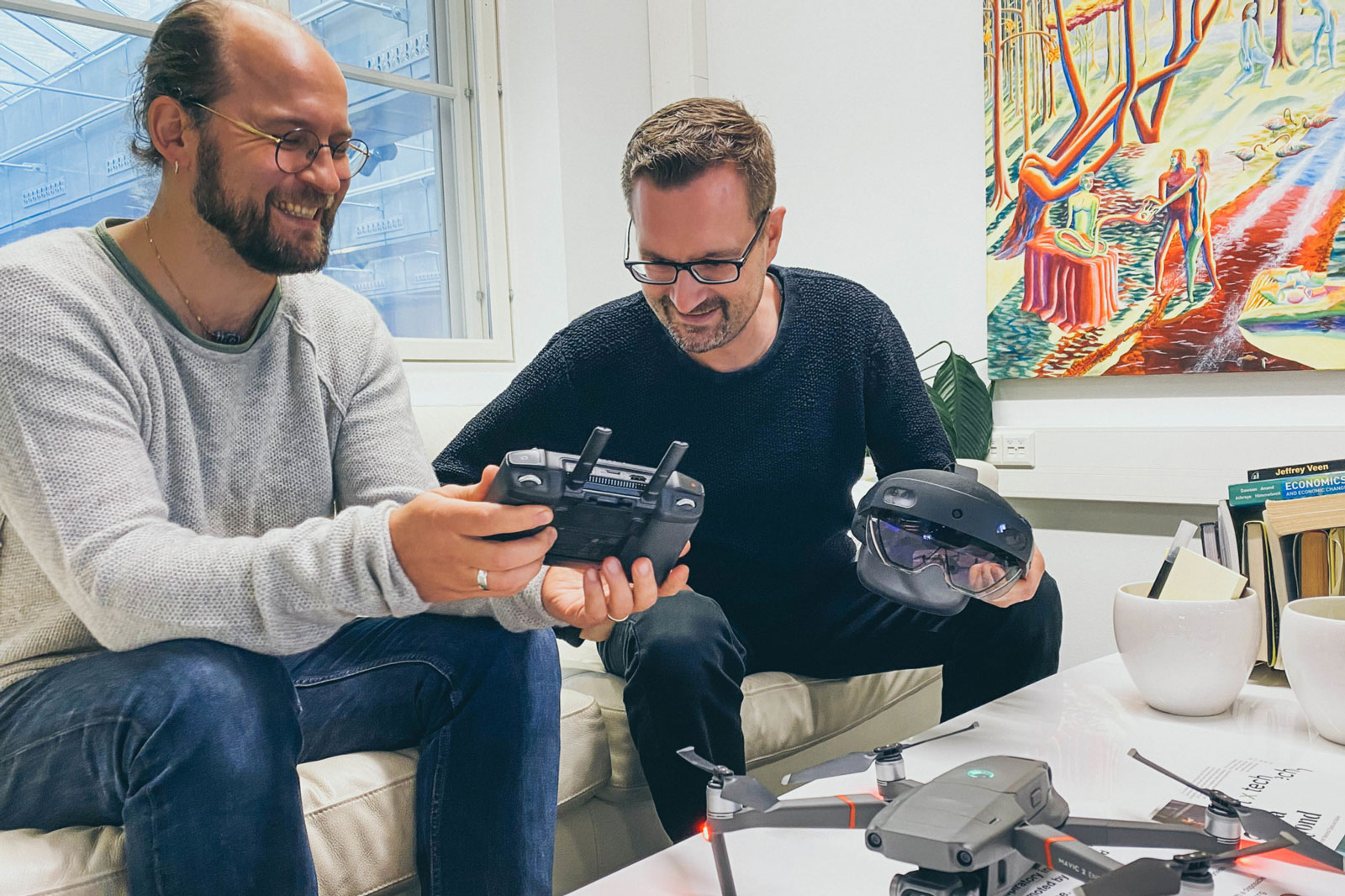 Anarky Labs' Lassi Immonen (on the left) and Hannu Lesonen (on the right).
This post is a part of the article series about Helsinki XR Center's hub teams. In this series, we have been posting team introductions on a weekly basis during the year of 2020. This has been your chance to get to know our talented XR community!
If you missed the earlier XR Hub team introductions, they are available in our website's News section.
Follow our social media channels and website's News section to stay posted for new articles!