To celebrate Helsinki XR Center's first birthday, we will take a moment to reminisce how the first year was like.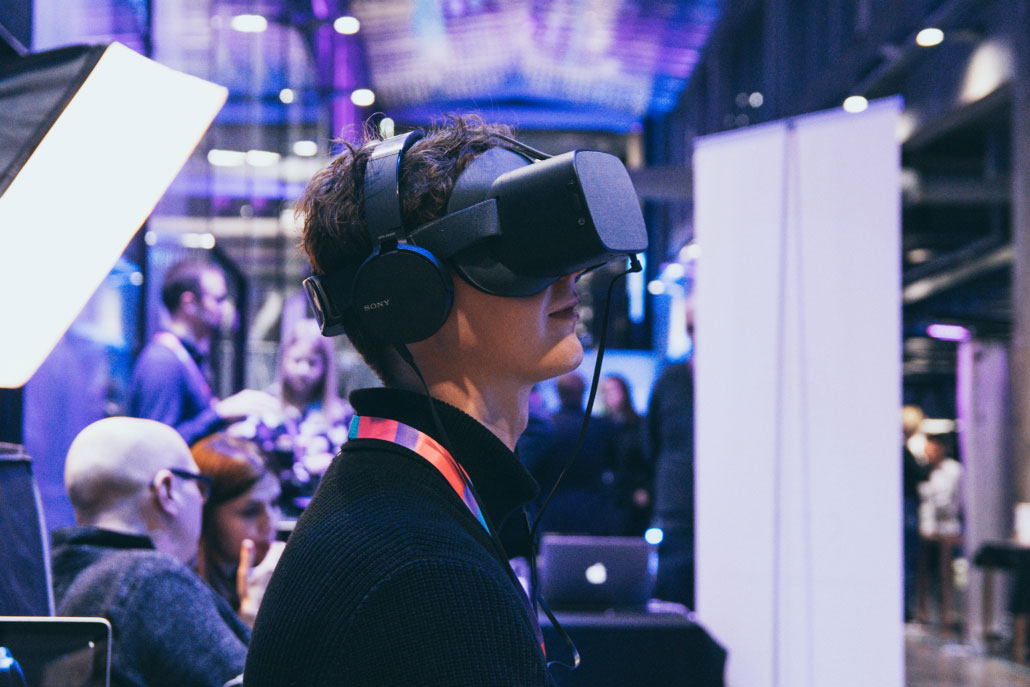 At the turn of the year from 2018 to 2019, Metropolia University of Applied Sciences launched Helsinki XR Center (HXRC) together with Finnish Virtual Reality Association (FIVR). Since then, things have moved with full speed here at Helsinki XR Center: during 2019 we collaborated with 75 companies, took in 15 developer teams, relocated our office, built the XR Showroom, and had over 30 events, including the biggest virtual reality and augmented reality dedicated event in Finland. Year 2019 was truly a busy one, but we couldn't be happier of everything the year has given us and all the support we've got around the world. Now as Helsinki XR Center has turned one year old, we will take a moment to reminisce how the first year was like.
Research and Development
One of Helsinki XR Center's main functions is to push forward the research and development of XR technologies (virtual reality, augmented reality and mixed reality), and it has been a big part of our first year. We've been arranging meetings and workshops, planning research applications and considering other future cooperation with a lot of different parties.
During our first year we've been discussing with over 20 different educational institutions in Finland, such as Tampere University, Aalto University and Häme University of Applied Sciences. We have also made important connections abroad, as we have discussed cooperation possibilities with several universities around the world, including LMU Munich, one of the largest universities in Germany.
In 2019 we have taken part in over 30 funding applications and development project plans, both locally here in Finland and on the EU level. We have helped projects to apply funding from different instruments, such as Horizon 2020 programme and Business Finland's Co-Creation and Co-Innovation funding tracks. Many of these projects have been granted funding, and currently eight of them are active, including Creathon, Augmented Urbans, Healthy Boost and VR Nurse Training.
YEAR 2019 IN NUMBERS

Collab with 22 learning institutions
and 75 companies

Over 100 XR Showroom visits

15 XR Hub teams

Over 30 XR events

8 employees
During the past year we've been praised for the knowledge that hides inside the Helsinki XR Center team. Members of our team are valued for their expertise in the XR field, and in 2019 they had many opportunities to join current and future research projects' steering groups.
Research and development continues as one of the most important aspects of Helsinki XR Center's work and we're looking for more interesting opportunities to take part in this year as well!
Finland's biggest XR hub
Helsinki XR Center's developer hub is designed to support early stage XR teams in Finland by providing access to crucial developer resources, knowledge and community. Teams retain complete ownership of their intellectual properties while receiving free office space and shared equipment, such as computers and virtual reality (VR) and augmented reality (AR) devices, but also mentoring, business coaching, contacts, and access to events. Helsinki XR Center is the current headquarters of Finnish Virtual Reality Association (FIVR), Finland's largest XR developer organization, where the model for our hub program is adopted from.
First Helsinki XR Center XR hub teams arrived on the scene in May 2019, ranging from experimental art projects to VR utility solutions. Among them were multimedia storytelling pioneers TheaterVR (currently known as company called AXiiO), XR Musical Instruments, which aims at creating ways for music making which are only possible in virtual reality environments, kinesthetic particle symphony Skeleton Conductor, 361 – a 360 film project about the everyday lives of people around the world, Evacrity VR, a company which specializes in VR fitness, combat and security training solutions, Sense of Space, who create revolutionary tools for editing volumetric videos and real estate, and AEC industry focused Imaginable XR. New additions came along during the summer, when VR game startup Critical Charm, AR game studio Harhama Games and multimedia experience agency Radical Rabbit joined our community.
The first half a year of Helsinki XR Center hub activities has been about creating a stable local developer community, generating learning opportunities, and giving and receiving feedback from one's peers. Some of the teams founded companies during their first six months here, while others, already having a company, developed their business further. The teams also had some integration with students of Metropolia University of Applied Sciences, which will hopefully deepen in the coming years as XR Design program students near graduation and the Helsinki XR Center hub is better known among students. What is certain is that the XR Hub remains a guaranteed source for exciting opportunities in XR development.
We are currently looking for new XR developer teams and individuals to join our hub. If you are interested, read more and apply now by clicking here. The application period ends on Thursday, 30 January 2020.
Services and Events
Public outreach and Consulting
A big part of our core functions is to open up spatial computing technologies and possibilities for small and medium-sized enterprises and public sector. While the XR field is still young, we aim to help companies and public sector to create their own roadmaps for VR and AR so they would not fall behind in technology. Helsinki XR Center acts as a neutral information source point for customers that are considering different XR options, and we do our best to help customers to find right vendors for their projects.
During the last year, our people have had a lot of interesting meetings and workshops with various organizations: we have met and consulted delegates from the City of Helsinki, Finnair and Kela, just to mention a few. We have also planned constructed workshops and education packages for expanding the XR knowledge among companies and public sector, and this is something we are very excited about.
From the very start, we have aimed to act as a connecting hub for customers, developers and XR solution providers in Finland. In addition, we connect the Finnish XR ecosystem to foreign customers, stakeholders and networks. During 2019, we have hosted several international delegations and taken part in international conferences like AWE 2019 in Munchen and ACM VRST Symposium 2019 in Sydney. In 2019 we also established our top-notch XR Showroom, which is now a key element for presenting Finnish XR applications to our visitors. You can read more about our services from this page.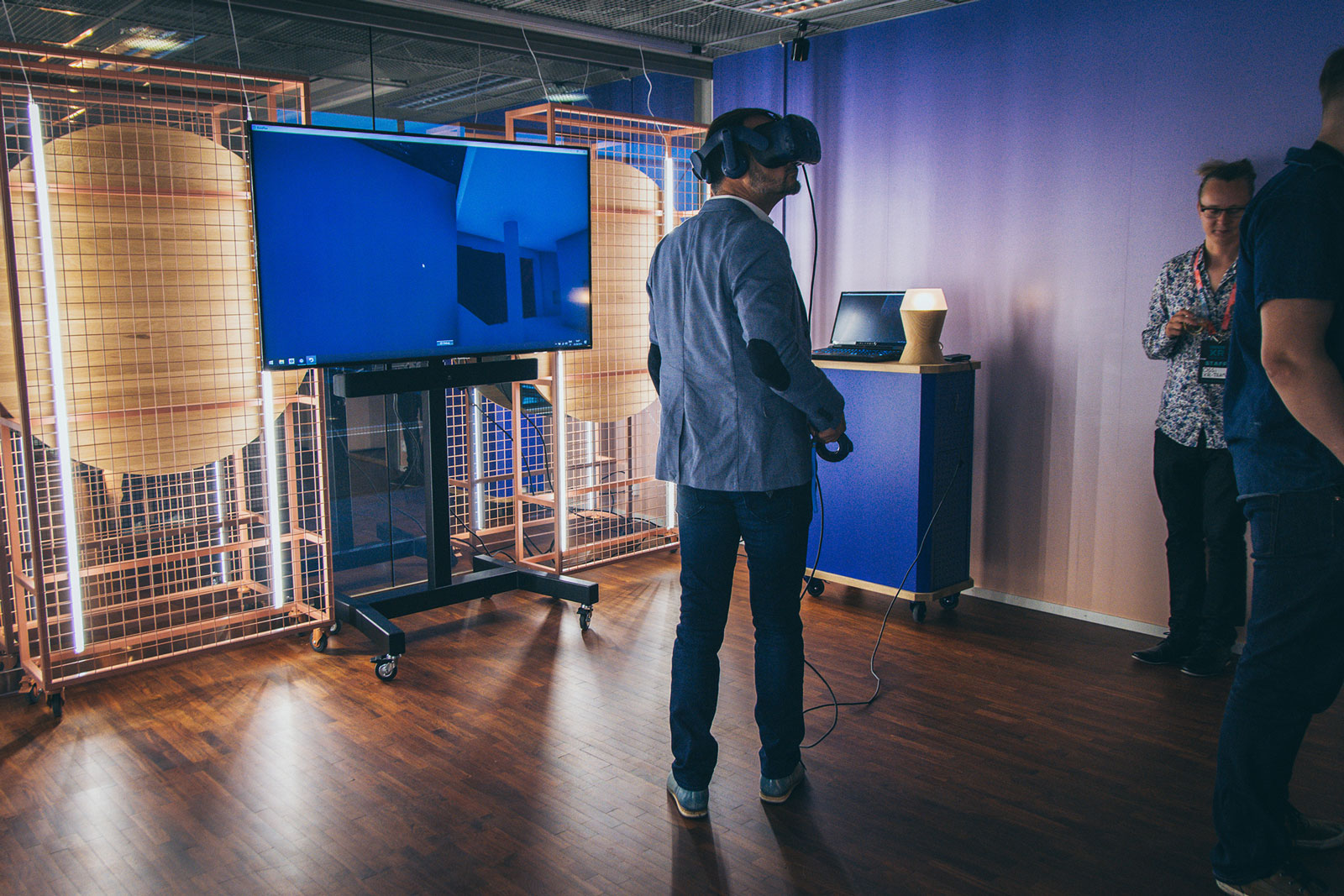 XR Showroom: a practical view for Finnish XR Industry
The new XR Showroom opened its doors in September 2019 and it quickly became a popular spot for visitors. XR Showroom gives the visitor a chance to experience hands-on AR and VR solutions for a wide range of purposes, and to get a good practical understanding of state-of-the-art headsets, their functionalities and pros and cons for different use cases. Since September, XR Showroom has had approximately five arranged visits per week.
During the first year of the Helsinki XR Center, we obtained headsets like Valve Index, Oculus Rift S, HTC Vive Pro, HP Reverb, Samsung Odyssey+ and Oculus Quest. This repertoire has allowed our visitors to experience wide range of devices and to acquire knowledge of the variety of headsets in the market. The plans for the upcoming year are to obtain the latest AR devices and optional accessories like tracking haptic gloves. And maybe our dream for Teslasuit comes true!
The second big aim of the XR Showroom after introducing variety of devices is to display Finnish XR applications. We have acquired around a few dozen demos and applications from the Finnish XR ecosystem to show out, and we are gathering more all the time.
Sharing knowledge through events
In the beginning of 2019, we decided to have an internal launch of Helsinki XR Center at Metropolia University of Applied Sciences' four campuses. This launch went by the name XR Roadshow, and its main function was to raise curiosity and awareness of VR and AR technologies amongst the students and staff of Metropolia UAS. During the roadshow, we visited four campuses with over 60 study programmes, and showcased insightful VR demos in collaboration with various organizations. On every campus we held a XR co-creation workshop, which idea was to create discussion about multidisciplinary collaboration with different degree programmes, and how VR and AR technologies could be applied in participants' own study field.
All in all, year 2019 was filled with events. Helsinki XR Center's own events had over 2000 visitors, and during the year we've organized or been part of over 30 events. In November 2019 we also arranged notably the biggest XR event in the Nordic countries, Match Up 2019. It had over 750 attendees from 20 different nationalities, 37 demo booths from various companies and organizations, 11 speakers and showcases, and over 120 pre-booked meetings in matchmaking one-to-one sessions. Match Up is Helsinki XR Center's gem, as its main function is to showcase up-to-date Finnish VR and AR solutions, share insight about the industry, and create a platform for networking. The event is open for professionals, students and everyone interested in the XR industry, and it will be happening again in November 2020.
Events are a great way to raise awareness about the possibilities of virtual and augmented reality, especially for people outside the XR industry. In 2020 our events will be more focused on smaller laid-back get-togethers, while (with some smaller and bigger improvements) Match Up will stay as our biggest event.
Looking forward to 2020
In 2020, we are expecting even more visitors, great new XR Hub teams, inspiring events and collaborations with universities and organizations. January is well on its way, and during these few weeks, we have re-opened the open call for our XR Hub and had almost 10 visits from various organizations already. After such a successful first year, we are excited to see what our second year will bring us!
Stay tuned for our events and news, and generally what is going on here at Helsinki XR Center, by following us on social media.