A Multi-sensory XR Art Experience.
Creating audio-visual art through your movement.
Original concept and script by Hanna Pajala-Assefa.
Skeleton Conductor is a user centred, single user XR art experience where the user is in a key position in the creative exploration it provides. The 6DoF VR enables a particular embodied situation where the real-time mapped gestures and movements of the user are the key ignitors and conductors of the audiovisual art. The progression of the interactivity score offers complex sonic properties and visual sculpting to induce attentive physical engagement and the dramaturgical journey lets one reflect on their aesthetic sensibilities. Skeleton Conductor emphasises the users felt experience and multi sensorial awareness and the sense of presence – it stimulates self-reflectivity through an open ended, improvisatory creative act.
The release of Skeleton Conductor XR Art first edition in October 2020.
Development continues to second phase production and researching multi sensorial art experience and cultivation of kinaesthetic thinking.
The Team
Creative director – Hanna Pajala-Assefa
Senior Unity and VFX developer – Daniel Leggat
Interactive sound designer – Janne Storm
Additional sound designer – Aki Silventoinen
Musician – Iida Wilhelmiina Sinivalo
3D Animation – Tanja Bastamow
Producer – Paula Pitkänen, StarHop Creative Ltd
Executive Producer – Hanna Pajala-Assefa, Art Cooperative Soiva Liikuttamo
Contact
Hanna Pajala-Assefa – hanna.pajalaassefa (at) gmail.com
Find us
Articles about Skeleton Conductor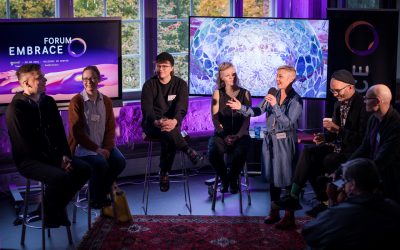 Embrace XR is an event that fosters in-depth discussions around the future of immersive art experiences, as well as the first event in Finland focusing on XR art.
Skeleton Conductor is a full body movement based XR Art experience that allows one to express themself through sound and visuals in VR.