Critical Charm is a female-led VR game company telling impactful stories with engaging physical gameplay to broaden the audience of VR games.
The team consists of Marjo Sutinen, Minna Salminen, Gregory Pellechi, Patrick Klinecz, Jaakko Sirén, and Rasmus Stenberg. Additional help is from Tiina Mannelin, Mikko Laakkonen, and Jonathan Methuen.
Projects
Critical Charm is currently working on A Giant Problem – a VR action base defense game where the player embodies the original power fantasy. They get, get strong and smash stuff. All in an effort to protect a fairytale land and its friendly inhabitants. A Giant Problem can be wishlisted now on Steam, and is set to be released in 2020.
Contact
Marjo Sutinen – CEO – [email protected]
Minna Salminen – Chair of the Board  Art Director
Gregory Pellechi – Chief Storyteller – [email protected]
Jaakko Sirén – Lead Programmer
Patrick Klinecz – Programmer
Rasmus Stenberg – Programming Intern
Critical Charm elsewhere
Articles about Critical Charm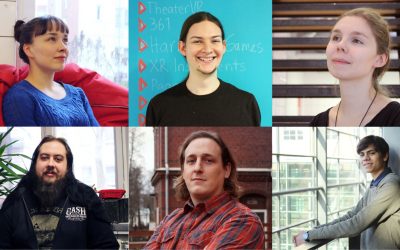 Critical Charm is making fun and family-friendly virtual reality games.