AR.VO – God Mode to Anyverse: computer-in-goggles for instant monetization of Your every creative effort in the WEB3.
AR.VO (Augmented Reality Visual Ocular) is a brainchild of 2 founders evolved in 2021. It is an aspiration about the next generation personal computer with adoption of all the new technology arising in XXI century.
Vision and mission
At AR.VO, we want to merge computing into the reality around to become
Seamless
Fluid
Humane
Effortless
and extend Your abilities over the real world as never before.
Being on our mission to secure fluid interactions for people piloting new realities, ARVO will be your most personal computer for mastering onchain web3-♾️
Born with agility in mind, our team and partnerships evolved from decades of achievements in Microsoft, Nokia, Symbian, Philips, Rovio, Dagmar, Starcom, Helsinki XR Center, MTV Uutiset, Helsinki Blockhain Center, Sanoma and is continuing to grow: Who is ARVO?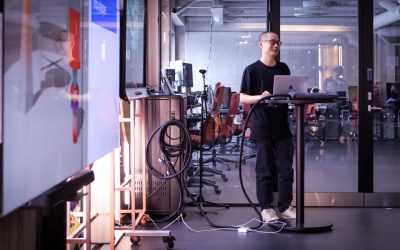 The HXRC Developer Hub is gaining new life in a new space – and finally face-to-face, like in the good old before times!